There's something about Paris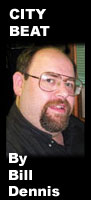 Bear with me. This is still a column about media and politics in the ol' River City. I've been doing this for several years now, and I think I've earned the right to digress a bit and devote just a few paragraphs to the most media-saturated non-news story of this decade. And I promise, before I'm done, I will mention a few things about Peoria.
I was driving home from work last night listening to the Jim Bohannon show on WMBD 1470-AM, and Jimbo was asking/pontificating about Paris Hilton. He wanted someone to explain to him why Paris is a celebrity, because she has no talent other than being somewhat 'more easy' on the eyes. It was a slap at the media for making her a celebrity and for the public for being fascinated with her life.If he couldn't figure it out on his own, he must have gone to a different kind of high school than I did. My love for Woodruff High School, class of 1981, knows no bounds. But I had to be out of school to realize exactly how – well, childish our behavior was, especially in how we treated each other. The last thing you want as a high school student is to stand out. You don't want to be too poor, or too rich. And you certainly didn't want to be too ugly. And you didn't want to be too beautiful. We had a girl like that — too beautiful. She was blond, pretty, nice figure, smart. Everyone hated her.
Correction. I didn't hate her. No one I ran with really hated her. We didn't know her well enough for that. We were several strata too low to presume a conversation.
Well, other people did hate her. And they did their best to make her life miserable. I almost want to say that I cannot imagine why they would do that. But I know why. She was too pretty and too smart, or perhaps too much of both all at once for some peoples' fragile egos to cope. She certainly never did anything mean to me, unlike some of the people who were insanely jealous of her. She was "popular," which for high school means that 20 years later, no one has to look her up in the yearbook to remember who she was.
Driving home listening to people chortle about the problems faced by this woman famous for being famous and it struck me: Paris Hilton is trapped in high school. It's like she's an eternal high school sophomore who keeps trying to be popular, but will never, ever be really liked. She has just too much money. She's just too pretty. She has to settle for being merely popular … which means she's always got someone looking to knock her down and laugh at her misfortunes.
At THAT is why Paris is a celebrity. No one really likes her. They know all they need to know about Paris for them to use her as intended: a source of ridicule by people who aren't nearly as rich, pretty or popular.
Don't get me wrong: Paris Hilton's behavior landed her in jail. And frankly, I think that girl I'm talking about from high school was much prettier than Paris is on her best day. But the people heaping scorn at her aren't righteously upset about some rich person getting away with something because she didn't get away with anything. People are watching the Paris Hilton story because they get a thrill out of the idea that some rich bitch is getting shoved around by the system.
I imagine it's quite cathartic. That is, if you have a mean and jealous streak.
And the popular girl of whom I speak? One winter in our senior year, after a heavy snowfall overnight snowfall, one or two of her friends stamped out a message on the open field in front of Woodruff High School stating that two of her rivals had certain unusual habits.
I'm sure that Paris Hilton has expressed similar sentiments about the paparazzi.
Journal Star beings campaigning for mayor's opponent
The people who run the Peoria Journal Star's award-winning (snicker) editorial page spent much of June having fun with Peoria Mayor Jim Ardis. Granted, the mayor's comments in print on the radio calling for an advertising boycott of the Journal Star were at best ill-advised, although no-doubt born of frustration with the paper's notoriously misleading editorials. Newspapers are supposed to put bad news on the front page. Most of what we consider news is, well, bad news. It's the nature of the beast. People need to be told bad news, and it needs to be played up so people will recognize it as such.
That being said, Ardis made some very valid points. There is good economic news in Peoria. It isn't being covered.
The anonymous editorial hatchet artist — one cannot even assume it's a member of the editorial board — says that Ardis has no right to point out that overall crime stats are down, even though murders are up — because Ardis pandered to voters fears of rising crime to get himself elected. Some transparency is in order. Ardis' opponent was David "The Liar" Ransburg, who spent his time in office pretty much telling voters that crime isn't a problem, therefore it's OK to eliminate police and firefighter positions and instead spend money on ballparks, shopping centers, rec centers, etc. No one at 1 News Plaza had an issue with that position at the time. Indeed, the newspaper enthusiastically endorsed Ransburg and his co-called "progressive" allies on the council and took every opportunity to imply Ardis and his were racists for making crime an issue. Columnist Pam Adams accused Ardis and at-large member Eric Turner of pandering to racism by holding a press conference in front of a suspected crack house on the South Side.
Did Ardis exploit voters' fear of crime? If by "exploit" you mean "campaign on a platform that included several measures designed to help reduce crime," then yes, Ardis exploited the issue. And let's not forget that there were many, many, many other things about Ransburg that voters rejected, including holding secret meetings to plan how to give away taxpayer money to developers. Voters were ticked off by a lot of things being done by the Journal Star-backed Ransburg, including reducing essential city services (fire and police) while never saying "no" to any developer with a hand out.
Good riddance to bad rubbish.
It took decades for the City of Peoria to get as screwed up as badly as the JS's progressives have screwed things up. We're less than two years away from another mayoral/district council election (the campaigning will start looooong before then). Is the JS editorial board impatient? Or, has the Journal Star has started its campaign to get another so-called progressive elected mayor and other progressives on the council? If so, one of the themes the mostly discredited editorial page will try to ram down voter's throats is that Ardis and others aren't living up to campaign promises.
Really?
Let's look at some of the things the city council has done in the previous two years. I'd like to give Ardis and company full credit for replacing John Stenson as Chief of Police, but that happened before the new council was sworn in. But they have worked with new Police Chief Steve Settingsgaard to improve how officers are deployed, so that more officers are on the streets during times most crime happens. They have secured grants and worked with contractors to install security cameras at crime hot spots. They are working to get a network of wireless video cameras installed in the center bluff. Ardis has sponsored meetings of law enforcement and judicial personnel to see what can be done to reduce crime, meetings which State's Attorney Kevin Lyons has denigrated as a waste of his precious time.
Have they been able to put a police officer on every corner? No, but neither Ardis nor anyone else promised that. He's been on the council too long and is too familiar with how the much money the city has to spend to make such a promise. There are initiatives underway to make it easier to fund new officers, new firefighters (thus re-opening Fire Station 11) and doing away with the garbage fee that appears on water bills.
No doubt the award-winning editorial board will have contradictory opinions on all of these measures (sometimes within the same sloppily written editorial). Whatever the outcome, they find a way to blame Ardis, either for not living up to his campaign promises or for living up to promises with which they disagreed.
No more snow jobs
The Peoria City Council has a lot of explaining to do.
Lori David, Caterpillar Six Sigma Black Belt Project team leader, headed a panel that was formed to investigate what caused the early December 2006 snow disaster that virtually paralyzed the city. She presented the panel's preliminary findings — and recommendations — at the most recent council meeting and what I heard makes the city look bad.
First, I was not in favor of the city adopting the Six Sigma plan at all. I thought it would drain resources and not really accomplish much. Second, I cringed when Ms. David said her summary would take no longer than 10 or 15 minutes.
But the summary was fascinating and illuminating. It was like Six Sigma round-house kick to the head.
Here are some highlights:
· The city's snow plan was made in 2000 and doesn't work well in 2007 because of 26 miles of new roads, and more being added ever year thanks to annexations and new development and subdivisions.
· Cul-de-sacs in subdivisions take 8 times as long to plow as through streets using the equipment the city uses.
· Drivers are inadequately trained.
· Trucks are sitting unused.
· City Council members should NOT be calling the Streets Manager David Haste to plow specific streets where there's been a constituent complaint. All this does is take drivers off their routes, preventing the snow removal plan from being followed.
· Stop towing cars off roads after two inches have fallen. That number is arbitrary, and probably two low to be taken seriously be residents. She suggested four inches.
· There is no one single direct line to city administration about snow complaints. There is no record of calls made to city hall to complain about snow, which prevents administration from tracking problem areas.
· The city stores salt at two locations, none of which are in the north side of town. Trucks spreading salt have to travel as long as 18 miles round trip to pick up a load of salt and return to their routes.
· Shift changes for drivers take an hour of travel time, lessening the amount of time available to plow or spread salt.
· The city ignored many avenues for communicating with the public about the snow emergency, including the city's Web site, the reverse 911 system (where citizens are notified by automated phone messages) and the use of emergency defense sirens.
· The city could consider having agreements in place with contractors to assist in snow removal. One option is assign snow removal duties for specific subdivisions to contractors, who would then be responsible for the quality of the work.
· The city needs to notify Caterpillar in advance of major snow storms, and the company is more than happy to help.
So why should the council be embarrassed?
Notice that much of the problem is that the city isn't accommodating growth. The given rationale for growth has always been that it brings in needed revenue. The trouble is that every new subdivision, the city adds to the services it needs to provide. These people pay taxes and the demand services. And because these people tend to be better connected than the average resident of the 1st, 2nd or 3rd District, they tend to get these services in spades. It's been apparent to me for a long time that urban sprawl sucks up more resources than the revenue generated by "new growth."
Also, it's apparent that during the snow emergency, the drivers spent a lot of time catering to the wishes of council members than following the snow removal plan, such as it was, and that taxed their effort of the drivers. David Haste took a lot of grief from the public for his handling of the emergency — as well as for issues related to it — and I've always wondered why he was never held accountable. Perhaps it's because a lot of the problems were caused by meddling city council members, and they know it.
There wasn't a lot of comments from the council after Haste gave the report, probably because there was much cause for embarrassment. Fifth District council member Patrick Nichting seemed put off by the suggestion that the city needs to keep revising the plans. This was odd, because it's growth in HIS district that was blamed for much of the problem.
Twice, Mayor Jim Ardis got assurances from City Manager Randy Oliver — who could NOT have been very happy with the findings — to make sure that recommendations for adopting these suggestions are soon brought before the council for consideration. I'm thinking there's going to be a lot of grumbling amongst the council members, who don't like the implications from the report.