Face to face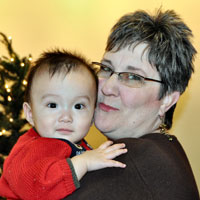 We sat on the couch in silence, though anticipation was making quite a ruckus in my heart. Hubby and I had driven three hours to get to our kid's condo before they returned home from Vietnam with our new grandson, and he was exhausted.
Glad that we didn't have to brave the pre-Christmas crowds at O'Hare, we raced around adjusting the thermostats in each room, plugging stuff back in, resetting the clocks and peeking out of the windows every two minutes – I should say I, not we.
I couldn't sit still! I was minutes away from becoming a Grandma! But somehow, I got still. There was nothing left to do but wait and within the hour that we waited silently on the couch, I took the time to thank God for all the things he has done to bring me and my son to this point.
If you're a regular reader of my column, you've followed me through years of uphill climbing. Step by step my son and I have walked through doors and climbed through windows into a whole new life.
When I submitted my first article to the editor of this newspaper in 1998, I was a single mom with a son in high school. We had just that year come through a criminal court case pertaining to a domestic abuse crime, a divorce and homelessness. Now, here I sat in my son's condo relishing the victories, the answered prayers, the safety, blessings and grace that have brought us to this moment.
I looked around the room at the tastefully decorated walls, the clean floors and countertops, the nursery, all prepared for its new occupant. Thank you Lord for giving my son a beautiful, industrious, talented wife! Thank you that she loves You and loves my son unconditionally; that she cares for him in so many ways – down to the most minute detail!
My heart filled up with joy, bubbled up into my eyes and spilled. I dabbed at the corners remembering all the prayers I prayed over my son since he was a child – all have been answered. God watched over him, led him, blessed him and now has given him a son.
I peeked out the window again. No sign of the travelers. I settled back into my musings on all that God has done. Though it was after midnight, I was buzzing. The anticipation was excruciating! I felt like a grandma-to-be in a hospital waiting room and as the minutes ticked away I couldn't sit still. At every noise I jumped and looked out at their parking space.
Finally, three car doors slammed. My body bounced off the couch and sure enough, it was them. They were home at last! In they walked with our grandson in my daughter-in-law's arms. He looked at me and I melted into the snow they had just tracked in. I whispered in awe, "He's real!" She asked if I wanted to hold him and I stretched out my arms and wrapped them around his tiny body.
This article would spread across all of the pages of this newspaper if I were to describe in words what that moment was like for me. But I must tell you of another indescribable moment that happened simultaneously. It was a fleeting epiphany into the day when I will see my Savior, Jesus Christ, face to face. It poured over me so quickly I could barely grasp it in my mind.
As I laid my head down on my pillow that early Friday morning, I meditated on what it meant and the words of the Apostle Paul in his letter to the Christians in Corinth floated into my mind, "Now we see but a poor reflection as in a mirror; then we shall see face to face"(1 Corinthians 13:12a).
I rolled over and over in my mind the connection between having only pictures of my grandson and having only scriptures that reflect the face of God – both of whom I long to touch – to see face to face with my own eyes with nothing obstructing my view. Now I can touch and see my grandson – soon, I hope, I can touch and see my Savior. As 2009 unfolds, I can only repeat the anxious words of John the Revelator in the last verses of my Bible, "Come, Lord Jesus!"