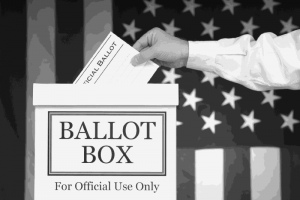 With the primary just two short months away, Democratic Party candidates rush to get out the vote while independents prepare for a rematch.
Candidates for the 2010 18th Congressional District election are getting an early start. Throughout Peoria and across Central Illinois, Democrats and Independents are voicing their concerns regarding high-priced healthcare and an increasingly large federal deficit. As the primaries draw close, candidates run fast and hard while constituents fasten their seatbelts for another exciting ride.
Meet the Candidates
New faces filing on the Democratic ticket have stirred up vigorous hope for capturing the 18th District. Touting a host of political experience, a PhD, and a professed willingness to place constituent requests above her own personal agenda, Hirner is ushering her campaign for the United States House into Peoria and making time to discuss the concerns of both Republicans and Democrats across the Heart of Illinois.
"I am willing to work as hard as I can to prove to the people of this district that I will represent their interests and not my own," she says. "When I worked as Deputy Chief of Staff for Governor Bob Holden of Missouri, he told me he thought I was a regular workhorse. And that's what the people of this district will get if they elect me. Congressman Schock is a showhorse. I'm a workhorse."
A resident of Springfield, Hirner, 55, says her political and job experience have prepared her for the grueling months of campaign work that lie ahead. Aside from working for Governor Holden, Hirner also served as policy director for the late Governor Mel Carnahan when he ran for the U.S. Senate in 2000. She served as Executive Director of the Conservation Federation of Missouri, and up until her resignation on October 30th, held a position as Executive Director for the Illinois Environmental Regulatory Group in Springfield. Hirner received a law degree this year from St. Louis University and also holds a doctorate in land use planning from Texas Tech.
The Hannibal, MO, native will challenge Incumbent U.S. Representative Aaron Schock in the November 2010 election—if she wins the Democratic Primary set for February 2. Hirner will face off against Democratic opponent Carl Ray in February. Ray, by no means a political novice, graduated with Highest Distinction in Political Science from the University of Illinois at Urbana, Champaign where he also earned a Masters degree. A Caterpillar employee and a resident of Washington, Illinois, Ray's two decades of experience in strategic, capital and capacity planning will make him a tough contender come February.
"I will be a voice for the middle class in Washington and uphold the rule of government by ensuring my constituents are put back to work and obtain easy access to healthcare for their families," he says.
A spirited serviceman with an impeccable work ethic, Ray promises to put his skills to good use serving the people of his district. A former soldier in the U.S. Airforce and a veteran of the Gulf War, Ray received numerous decorations, awards and early promotions. He was selected for the Base Honor Guard and was nominated for Base Honor Guard Member of the year.
Both Democratic candidates remain quiescent in their determination to win. "I am determined," says Hirnir, "determined to do whatever I need to do to prove to the 18th District that I am the candidate for this job."
Peoria resident Sheldon Schafer who filed as an Independent with the Green Party for the 18th District seat is putting the third party on the map. Sheldon, who founded the Peoria Area Green Party in December of 2000 and who presently works at the Lakeview Museum of Arts & Sciences, says he was encouraged by the results of the last election.
"I had a lot of people coming up to me and telling me they were both pleased and impressed with the Green Party's efforts," Schafer says. "We ended up with 2 or 3 percent of the vote, which is good considering the scope of the 18th District. As a part-time politician, I still took time to visit every town within the district. When we analyzed the results, we discovered we did exceedingly well in the areas where I had a presence."
A graduate of Ohio State University in Columbus with a BA in Astronomy and an MA in Science Education from Wagner College in Staten Island, Schafer served as a U.S. Peace Corps volunteer and performed mission work in Haiti. He has traveled extensively throughout Mexico, Brazil, Morocco, India, Zambia, Zimbabwe and South Africa, to name a few. The Green Party candidate has spent thirty-six years as an educator, presently instructing Astronomy at Bradley University.
Why Run?
Although some of the candidates he's running against may have changed, Sheldon Schafer's mission remains the same. "The Green Party's goal is to create a serious third party presence in the state," he says. "We want to reform and clean up Washington, and I truly believe that as long as we keep electing Republicans and Democrats to positions of leadership, politics itself will never change."
Schafer claims elections have helped to position the Peoria Green Party as one of the strongest in the state. "Running Rich Whitney for Governor, we received a lot of publicity," he says. "We have a genuine presence now, and we need to maintain that presence."
Hirner has been working to maintain a Democratic presence in both Missouri and Central Illinois. "After performing policy work for two Democratic governors in Missouri, I began focusing on my law degree and was admitted into the Illinois Bar in May of 2009," she says. "I've been involved with the Democratic Party for many, many years, and now that I've finished law school, I want to become re-engaged."
Hirner's passion for politics and her heart to help working families across party lines was the impetus that placed her on the path to the nation's Capitol. "I think I've developed a deep understanding of what it means to govern verses what it means to merely hold an office," she says. "The ability to listen—and I mean really listen—to the people of the 18th District means listening to their needs, identifying their problems, and then working to advance the people."
A massive problem facing constituents in the 18th District is restricted healthcare access, an enigma Ray says strummed a personal chord in his life. Years ago, Ray and his wife discovered their then-two-year-old son was autistic. A mountain of medical bills coupled with a four hundred-dollar monthly payment for healthcare forced the family to file for bankruptcy protection. Ray claims over half of all bankruptcy filings are due to medical bills.
"The system is broken," he says. "We are in desperate need of change."
Ray says families without health insurance facing circumstances similar to his have no choice when it comes to deciding whether to face financial ruin or help a child get well. "Some families are unable to get treatment—out of the race before the starting gun," he says. "In a country with the best healthcare technology the world has to offer, this is unacceptable."
The Health Care Snafu
Carl Ray is merely one of thousands who desire to see real change when it comes to healthcare. Lawmakers on Capitol Hill are gunning for reform, yet hardly anyone can agree on its true definition. Ray supports the public option and believes it will help counter the powers of insurance companies. "We need comprehensive, affordable healthcare for all," he says.
Citing Schock's vote against the State Children's Health Insurance Program, or S-CHIP, Ray says the funds for the program will be able to help children like his son obtain treatment. The decade-old program provides healthcare to children with families who make too little income to afford private insurance but too much to be on Medicaid. The bill passed the House 290-135 last winter and extended healthcare to 4.1 million children. The majority of Republicans claimed the bill came with too high a price tag and also criticized the scope of its coverage, arguing that the program would cover 2.4 million children who would otherwise have access to private insurance.
"There's no excuse for denying a sick child healthcare coverage," says Ray. "Thanks to the therapy and medical treatment my son received, he now attends mainstream third grade classes where he's a straight-A student and was named student of the quarter last year. If there's anyone around here who can appreciate the need for comprehensive healthcare reform it's me."
Hirner shares Ray's belief in universal accessibility to healthcare at a reasonable cost. "I can see what it means to people—young and old—to have healthcare or to not have healthcare," she says. "People should not be precluded or overcharged or overlooked because of age, income, medical history or gender."
Much like her opponent, Hirner has witnessed the detrimental effects of a healthcare system in need of renovation. "I once knew a woman who had breast cancer. She had health insurance and then lost it and was working two jobs just to pay the bills. She decided not to go into the hospital for treatment because she did not want her employer to get stuck with the costs. She ended up losing her battle to cancer because of our broken healthcare system."
Hirner says she believes in "an American system of healthcare" that offers a variety of options, including employer-sponsored care and a government option.
Schafer approaches the healthcare quandary from a different angle. Rather than purporting a new healthcare system will save the country, he espouses filling in the gaps in the current system. "We need to address the problems and flaws in the current system," he says. "We shouldn't create a new wheel from scratch. That's time and money and the result of special interests coming into play."
The Green Party candidate believes misinformation has been a problem in the current system. "A congressman should bring good information to his constituents," Schafer says. "Our congressman is feeding off misinformation instead of providing a better solution."
Economic Woes
Whether it's a loss of jobs or the trillion-plus dollar federal deficit, candidates are weighing in. Hirner disapproves of Schock's "no" vote on the stimulus bill in February claiming the bill has not been given enough time to take effect. "This bill was devised for investment over a two-year period, and we haven't even reached the end of year one yet," she says. "The stimulus bill invests in infrastructure, and I believe highways and construction will help decrease unemployment. Steel mills will put more industries back to work when there is a demand for more products and more tractors from companies like Caterpillar. The bill has a positive spin-off for a variety of industries."
Hirner says anyone who votes against the stimulus is voting against the best interests of 18th District constituents. "We invested in Wall Street; now we need to invest in Main Street," she says. "I think the stimulus package is investing in us."
Ray also believes that the stimulus bill is necessary to help America recover. Ray's good friends were laid off from Caterpillar several months ago. "It was painful to see and scary, too, since I didn't know if I'd lose my job," he claims.
The Democrat criticized Schock's support of the TARP bailout for Wall Street during the last election as well as his support of overseas tax havens for corporations. "Our incumbent is against limiting the salaries and bonuses of executives at bailed-out companies, yet on the other hand, he has opposed bills that would help working families losing their homes."
The primer of Ray's belief system for the American economy rests on five points:
· Individuals have the right to a fair wage to support a family.
· Families have the right to live in clean, safe neighborhoods.
· Children have the right to be well educated.
· Families and individuals have the right to see the doctor of their choice.
· Families and individuals have the right to retire on a decent salary.
Schafer and other Green Party members believe the American economy cannot recover until "we create fair playing fields for all, especially local and family-owned businesses."
"We need to curtail and eventually eliminate the system fueled by special interests that creates these unfair playing fields," he says. "Business should exist for the betterment of people not people existing for the betterment of business."
He also opposes practices that allow U.S. Corporations to move their operations offshore for the purpose of avoiding taxes, which he claims results in higher taxes for middle-and low-income families. "We need to eliminate the special tax privileges for the super rich," he says.
Good luck to all the candidates!