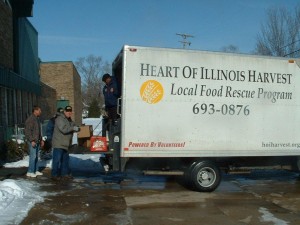 Heart of Illinois Harvest began recycling long before green became a buzzword. The not-for-profit food rescue program was founded in 1992, and was the first chapter in Illinois, and the 52nd Harvest Chapter nationwide. The first food pickups began in December of '92. During the beginning years, dedicated volunteers averaged pickups of a ton of food weekly, and that food was delivered to about five shelters and food pantries.
In 2008, Harvest was picking up an average of six tons of food per week from 95 food donors. Some 55 shelters, food pantries, missions, and other feeding organizations are recipients of that donated food.
Eric Swanson, pastor of Outreach Ministries at First United Methodist Church of Peoria on Perry Street, says, "Without their (Harvest's) donations, we'd have a very difficult time with our feeding program." Every Saturday, for the past 13 years, First United Methodist Church has provided a hot meal for some 300 to 350 guests. Other churches, several area high schools, and Bradley University partner with the church in its outreach called Loaves and Fish Ministry to provide volunteers, food, and care for some of Peoria's neediest people. "It's a blessing for us to serve in the community," says Eric. "Harvest is so easy to work with, and they've been able to grow their resources, and help many people."
Heart of Illinois Harvest has written on the side of their truck, "powered by volunteers." It's a statement the group embraces literally and whole-heartedly. Through the generous efforts of more than 60 active volunteers, including 14 Board Members who also pick up and deliver food, the organization works to make certain food stays out of the landfills and goes to those who need it. Most of the volunteers are retirees. Harvest has one paid part-time staff person, Marilyn, who works with volunteers, donors and recipients in helping to insure operations run smoothly.
Founded by Hobe Albright, Gene Slevin, Bob Baietto, and Bill Lervaag, Harvest aims to "heal hunger" in the community. "Hunger is totally unacceptable," says Bob Baietto who continues to serve on the Board along with Bill Lervaag. Harvest is supported by grants, donations, and in-kind services.
While the volunteers and Board Members work fervently to support a cause they believe firmly in, and that involves picking up and delivering food in sub zero temps, those that soar into the '90's and beyond, snow and rain, and every climate condition in between, the fact still remains that increased awareness is essential in promoting their mission.
Realtor Marilyn Kohn from Re/Max Unlimited was motivated to respond to the need through seeing a news story on television about food pantries struggling with near empty shelves. She and her staff sent emails to clients, friends, families, and business colleagues asking them to participate in a food drive. "We wanted to give back to the community," she says. "Harvest was delightful to work with," says Marilyn. She says Harvest was chosen because of its work in collecting food items and giving them out. "We wanted to benefit different agencies, not just one, and Harvest helped us do that. They even came to the office a second time when we had more items to pick up." She said the whole experience was great, monetary donations arrived from people living in other areas, even from people living overseas including India, and she was pleased to be a part of an effort that benefited many.
Harvest collects non perishable food items, such as those obtained through food drives, as well as surplus food from restaurants, grocery stores, hospitals, bakeries, schools, wholesalers, gardeners and other food donors in the Peoria area. Covered by the Good Samaritan Act, liability is removed by law from individuals and businesses that donate food in good faith. (The Good Samaritan Food Donor Act was enacted into law on September 24, 1981. President Clinton signed the Bill Emerson Good Samaritan Food Donation Act on October 1, 1996, to encourage the donation of food and grocery products to non-profit organizations for distribution to needy individuals. This Act protects donors from liability when donating to a non-profit organization and from civil and criminal liability should the product donated in good faith later cause harm to the needy individual.)
Volunteer help for Harvest comes in a variety of ways. Some volunteers use their own vehicles to pick up and deliver food. Individuals and companies send monetary donations to help pay the cost of gas and other maintenance on the two vehicles Harvest uses. Food is donated from individuals, groups, special events, or during particular times of year like Thanksgiving and Christmas. (The need for food is year around. Donations are typically less during the winter months when the need is greatest.) Sometimes memorial donations are made to Harvest to remember a deceased loved one. Whether cash, check, or bags and baskets of food, Harvest uses its resources to do the most good for the most people.
For additional information, please call (309) 693-0876 or visit the Heart of Illinois Harvest website at: www.hoiharvest.org