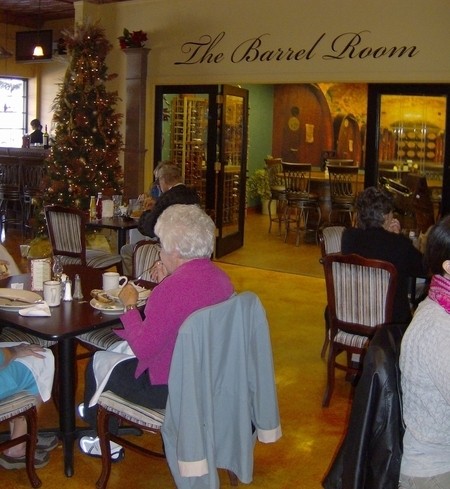 By Marie Blood
QUESTION: What is the best kept secret in Peoria?
ANSWER: The Butcher Block Steakhouse & Grill which morphed from a small meat/deli shop in Lake of the Woods in the mid-90's to a booming full-service restaurant at the Junction City Shopping Center in 2010, according to some of their customers.
So, when similar businesses are shutting their doors and quitting business in Peoria, why is Butcher Block flourishing?
"Flexibility is the answer," says the restaurants' general manager of three years, Kelly Mohr,
"That is one of the reasons we have remained successful. We are growing at a time when other people are not." Mohr adds.
"Our core values are to provide good food and good service in a unique and warm inviting atmosphere at a fair price. That is what we work an every day." she explains.
Mohr states that no matter where anyone is on the economic ladder, they deserve to have good food and service.
"That is the secret to our success," she explains. 'I have customers at the top and at the bottom of the economic ladder and no matter who walks through that door, they all get the same service."
Mohr feels the transition from meat and deli to full restaurant fare has been a natural progression of trial and error over the years.
It all started back in the mid-90's when entrepreneur Lee Hofmann and a partner started a little meat shop/deli in the Lake of the Woods Shopping Center. Shortly thereafter they acquired the Rocke's Meating Haus in the Metro Center and eventually combined the two into the Butcher Block there.
At Metro, in addition to a reputation for excellent meats, the shop introduced deli sandwiches for lunch and a few grocery items like meat seasonings and some addendum canned goods, she explains.
Then the opportunity came to move to the larger place at Junction City and expand in October of 2006.
"It's a great location. There were a lot of things happening in Junction City and an opportunity for Butcher Block's growth here. The shopping center is very quaint, and very beautiful," enthuses Mohr.
"The first year here in Vonachen's Junction they did very well with the meat and deli and they also had grocery items and added quite a wine and beer selection." reiterates Mohr.
She also recalls that a couple of years into the business, there were more and more choices for meat purchases in Peoria at other stores.
"Butcher Block was still holding its own when I joined in March of 2008," she reminisces, "but things were not going too well and we needed to make some changes." That was when they decided to expand the lunch menus; and then, in response to prompts from customers, they expended into some breakfasts for about ten months.
Without official marketing experts telling them what to do about the business, Mohr says they followed their instincts: "I always listened to what our customers would come up and say, and after a while, you just hear the trend of what they want."
And when customers started asking when they were going to start serving dinners, they did this past April.
Has the transition been hard, we ask?
"It has been challenging, but it has been very exciting and surprisingly enough, it has been a natural transition," she says of the metamorphosis that has taken about two years.
"We started out with a lot of revenue streams and we knew when we did that, that some of them would work, and some wouldn't. We waited to see how people reacted to them and what you are seeing now is the final phase," she says. "We do keep changing, but we are changing because that is what our customers are wanting."
Mohr's son, Dustin Allen, is the chef who constantly is redoing and reinventing the menus; her daughter, Kendra Allen, and daughter-in-law, Ashley, hostess, waitress, and bartend as the need arises. The Butcher Block currently has 21 employees.
Even though Butcher Block no longer provides deli salads in the restaurant, they can still be requested for catering parties. And, they still have their specialty ice cream selections and will even pack up a quart or two to take home. However, the glazed hams at the holidays are no more.
"We have been steering people to other shops in town for that anymore," Mohr says with a smile.
"In June this year we eliminated the meat and deli altogether and made the final turn to 100 per cent restaurant," Mohr says, adding that she has 12 holiday parties booked already even though the restaurant is open seven days a week. She has a few dates left for holiday parties, with one company booking the entire restaurant for their celebration.
"We have started doing a lot of wedding rehearsal dinners," she says.
"We are perfect for that since they are usually in that 50-people range," she continues, explaining that they have an alcove area behind stained glass in their 7500 sq. foot restaurant which lends itself for that particular festivity.
She has yet to host a full wedding reception party but is ready when asked as she has a live entertainment license with which to do so.
Their biggest money makers so far are steaks, dinner entrees and wines.
Does she believe that the only way for the Butcher Block to survive in this economy was to transition from a meat shop and deli to a restaurant?
"We believe, yes, it was," says Mohr.
"What we do here is simple food done well. When you use simple food, it has to be best quality," Mohr explains, of her modestly priced menu: lunches average no higher than $8.99; and dinner's lowest price is $13.99.
"However, I have had two men who ate our 28 oz "Cowboy Cut" steak for $36.00," she laughs.
"If you could come in here in the evening and see this place with the lights off and all the candles on the tables .. and Dean Martin playing in the background, you would be totally surprised," she enthuses. "We are a 'come as you are' place; you don't have to be dressed up; we are a casual place; we are affordable; and everybody is welcome," she says. Mohr claims she sees new faces every day in the restaurant.
She states: "The best reward that anyone says to me is, 'We are going to bring our family and friends.' You cannot get a higher complement than that."