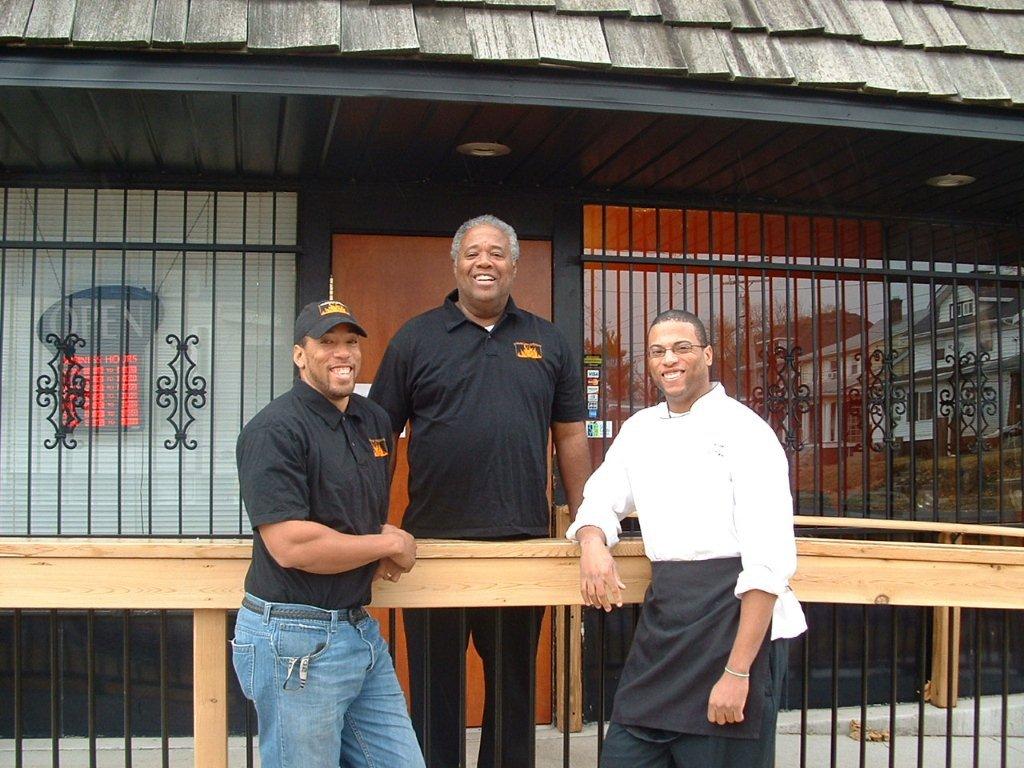 Standing proudly in front of their new cafe, Hick'ry Stick, located at 1122 E. McClure in Peoria are (L to R) Ron Foster III, Ron Foster, and Ryan Foster.  The family-operated business offers eat-in, catering and carry-out.
Tip jars on restaurant counters aren't so unusual, but a prayer jar on the counter is unique. The jar, with its message about prayer requests, characterizes the spiritual convictions of the Fosters who own the Hick'ry Stick Café. "Praying for people is something we can do now until we get more money for other projects to help people," explains Executive Chef, Ryan Foster.
Hick'ry Stick is located at 1122 E. McClure Ave. in Peoria, one block west of Glen Oak Park. The café is new although the family has been in the catering business for years working out of their home on Atlantic in the Heights.
"My first memory of the business is when I was in the second grade," remembers Ryan, now 25. "I did a report for school on my Dad smoking meats as a hobby. That year he smoked 14 turkeys." Ronald Foster Sr. and his wife Mary started the company and it was incorporated in 1995. For years the smoked rib tips have been a favorite entrée at events along the Riverfront. Ryan says satisfied customers were often asking where they could go throughout the year to enjoy those rib tips and other great food. The café provides a place for folks to come and eat or pick up carry out orders. "We now have two county-approved kitchens," says Ryan. The catering business continues as well and can include full service set ups, wedding receptions, business luncheons, and food delivered to area locations.
Their business cards describe their culinary style as "Food with a kiss of ole'hickory." Theirs is a family-owned and operated business and includes owners, Mary and Ron Foster, their daughter Rhonda, sons Ryan and Ron Foster III. Their daughter Renee Burton is a high school math teacher in St. Louis and has told the family to count her on board when they're up and running. Rhonda lives in Florida and visits frequently. "She texts us all day long," says Ryan. Each person shares his or her expertise from accounting to cooking to tweaking recipes and myriad other tasks necessary to successfully run a business.
The building they purchased was a foreclosed property that had been vacant for years, explains Ryan. It had most recently housed offices, and before that a Laundromat in the '70's, and a grocery store in the '40's and '50's. They opened the café in August after considerable help from many others who took an active and generous interest in the success of the new neighborhood business. "There is a long list of people who helped," says Ryan gratefully. "We just kept hammering away." In addition to family and numerous volunteers, they employ a small staff with Andre Williams as consultant.
Members of Heaven's View Christian Fellowship Church, Ryan says, "we are a Christian based company." He says neighbors were a bit skeptical at first about the burgeoning business, but now they're very protective and helpful. The business was recently awarded the City of Peoria Neighbor Award for 2010. "We feel God has blessed us with this opportunity," he says.
Their menu includes the suggestion, "Let Hick'ry Stick Be Your Kitchen Away From Home." Whether it's dine in, take out, or having an event catered, meat choices include hickory-smoked ham, turkey, ribs, beef brisket and others. Side dishes include sweet potato casserole, baked macaroni and cheese, collard greens, hickory-smoked chicken dressing, candied yams, and many other choices. Corn bread muffins, potato rolls, and an array of desserts including sweet potato pie, caramel apple pie, peach cobbler, turtle nut cake and more are available.
The café  is open Tuesday through Saturday from 10:30 a.m. to 8:00 p.m. For additional information, please call 685-7600.Their website is www.hickrystick.com.