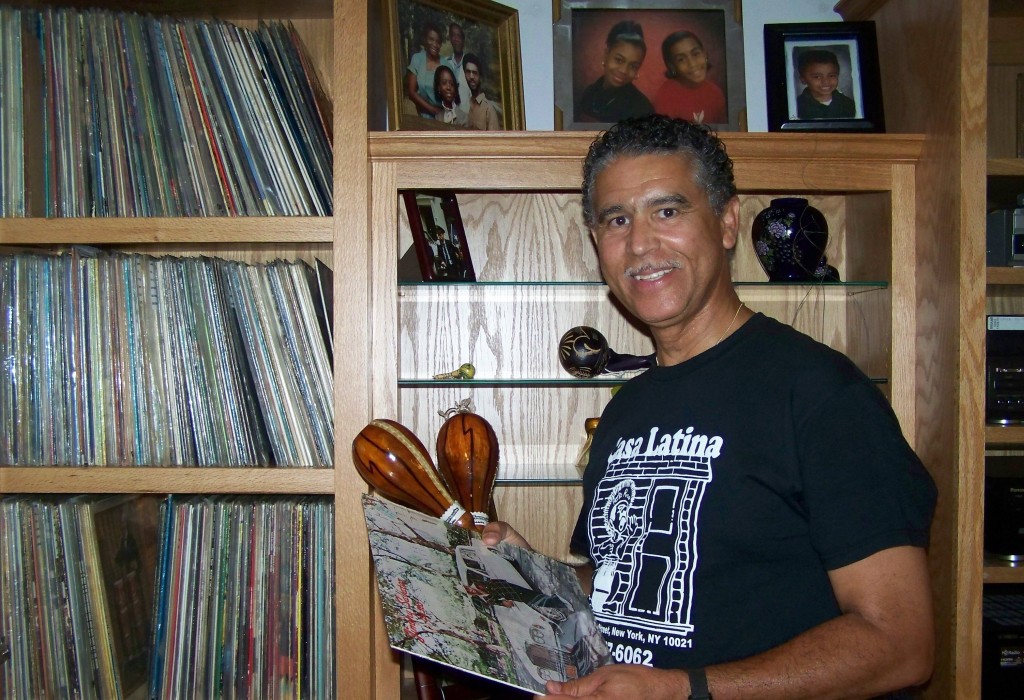 Salsa enthusiasts Ed Caballero and his wife Beverly have brought to life the Salsa Program on Friday nights at the Contemporary Art Center to attract people to the love of dance. Caballero, a Salsa DJ in various places in Central Illinois, became attracted to salsa music when with his brother, he listened to the music during its prime in the 1970's as well as 1980's.
Without his brother's and wife's influences on him, Caballero may have never gained the passion for teaching dance and being a Salsa DJ. The excitement of Salsa reverberated around New York City at that time and furthered people's interest in the musical energy the dance brought. The dance and the music were catalysts for a salsa explosion in that time period, while Salsa continues to thrive today as an art form.
Ed bought records of various Salsa artists for as little as five dollars. The idea of buying music this cheaply today is astounding and the only comparison would probably be to iTunes downloads or a bargain CD. The ease and positive message of love as well as a variety of subject matter carries throughout Salsa's music.
Salsa really made an impact on the music world in those early years because of its positive beats, danceable music, and subject matter relatable to those of that background as well as the general population. Acquiring the music and listening to it over time gave Caballero a liking for Salsa. Many of the salsa artists Ed and his brother loved are deceased today. However, the music still lives on for many people who find happiness dancing Salsa.
After having collected a large amount of albums, over fifteen hundred, Ed decided he liked Salsa, however, not as much as his brother had. Initially he did not know how to dance Salsa and went to nightclubs to meet some of the artists they listened to. Caballero was more interested in R & B during that period, but had gained a liking to Salsa.
He uses his laptop in his DJ work to play Salsa music, rather than just putting a CD in a CD player. It could be argued that the carryover from R & B music made Caballero want to use his laptop because of the technological trends of today. The digital age of music at your fingertips made Salsa music easily accessible for Caballero.
Over many years, Ed gained an interest in Salsa dancing mostly through the determination of his wife, Beverly, encouraging him to learn. The dance steps of Salsa are sometimes difficult to learn and Salsa takes constant practice, as this writer has learned from personal experience by taking one of Caballero's CAC courses.
The shift from listening to Salsa to practicing how to dance salsa and teach others to dance happened in 2004. Caballero states, "I learned to dance salsa seven years ago from a teacher named Berfan Kochgiri. He was from Turkey. My wife Beverly and I practiced and practiced, until today, we can not only dance salsa "club style", but we teach it along with Merengue and Bachata."
Bradley professor Berfan taught a one hour beginners class that Caballero learned a lot from. Ed Caballero professes that Beverly really helped him learn the dance as much as possible and gave him the courage to continually practice. His teacher Berfan suggested to him to be a salsa DJ and see if people would come dance Salsa at a local watering hole, Edie's Oasis on Farmington Road in Peoria. Caballero thought this was a fantastic idea and figured he would give it a try, playing Casino Rueda dances there, or couples dances.
Caballero remarks, "This was successful for two years. We were asked by the Contemporary Art Center if we wanted to try salsa dancing and basic lessons, and here is where we have landed for the past four years. It's been successful ever since. We teach beginners and intermediate salsa lessons for the Peoria Park District, the Contemporary Art Center, and Bradley University."
Caballero was recognized the past at the 2010 St. Louis International Salsa Congress for being a DJ, which was an amazing achievement for him after years of learning and teaching.  The Salsa couple also teaches on the 1st and 3rd Fridays at the Contemporary Art Center from 8:30-9:30 p.m. Caballero continues to DJ at the Noir Restaurant in Peoria on Tuesdays from 7:00-10:00 p.m. and teaches at Peoria Park District for five weeks this fall.
Additionally, you can contact the Peoria Park District or any of the places Ed and Beverly teach for an added schedule of the classes. The Contemporary Art Center program promotes the fun and energy that Salsa brings with a lesson beforehand as well as a free dance period following the lesson for couples to practice steps.
Caballero applauds the health benefits and positive aspects of dancing Salsa as well as is happy to bring people together to have fun. He states, "The health aspects of Salsa are amazing. Studies say you can burn 400 calories in an hour by dancing Salsa. One benefit of Salsa other than promoting good health is that it relieves stress. I also enjoy helping people have fun through Salsa."
Overall, Ed and Beverly Caballero found the infatuation with Salsa through learning as well as giving that passion back to students of all ages. The classes Ed and Beverly teach are well thought out, energetic, and pleasant for any skill level or background. Without teachers like Ed and Beverly, Salsa would not be as revered as much as it is today for its complicated turns, steps, and movements. The Caballero's have proven the art in dance lies in the beauty of its language created with the body, while giving hope to all Salsa students to find the components behind mastering it.