Peoria's Riverfront Visitor Center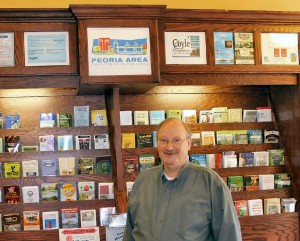 Have you ever heard of the Riverfront Visitors Center? Sure you have. But, what do you know about it? Well, for starters, it's located in the oldest commercial building standing in Peoria. It was originally built in 1852 and is the only pre-Civil War commercial structure still standing in Peoria. It is on the National Register of Historic Places. In 1998, the building was moved two blocks hoisted on 16 hydraulic jacks, and was hauled by a 2 ½ ton truck to its present location. Now it's a one-stop shop for all your Peoria Area information needs – the "go to" place to go for area maps, guides, brochures, merchandise and so much more!
According to one of their brochures, this former Powell Press Building once housed a grocery and dry goods store, church, soda parlor, tire retailer, novelty store, and a printing company with a saloon in back. Curless furthers shares that the building is reportedly haunted due to the sudden death of John Schwab, a well-known saloon keeper on Adams.
The Riverfront Visitors Center is one arm of the Peoria Area Convention & Visitor's Bureau, which is a non-profit, member (partner) based organization. Larry Curless, who is the Center's Manager, explains that typically, the need for tourist information begins at the Riverfront Visitor's Center. Hotel staff often refers their guests to the Center. Sometimes a visitor may be just passing by, or they may have seen the sign on the expressway leading them there. Sometimes they arrive looking for some other company, or an issue. Whatever the reason for stopping by, they can get a lot of information there!
Curless says that part of his role is "to also deliver information on the number of participants registered for an upcoming event to hotels and motels, within the event's focus area." At the time of this interview, he was out delivering information for the upcoming Illinois Music Educational Association, which is the largest group that they have hosted. He was also delivering visitor guides to the eight-county Chamber of Commerce Associations.
He stressed that their volunteers are great "life-long Peorians. "They have a super knowledge of the area and of the resources available." According to Curless, they are the unofficial tour guides. They pick their own volunteering schedule as hey may have other volunteering roles. The volunteer's primary role is always to provide the best one-on-one to the visitors who go there for more information.
"We greet the visitors and give them as much information as we can. We do this through our knowledge of the area, our travel brochures of Peoria, and of other counties, as well as brochures on the History of Peoria in seven different languages" says Curless. Area maps are distributed as well. Peoria memorabilia and souvenirs are sold with postcards at the top of the list.
Basically, visitors to Peoria want to know about good places to eat, what is there to do in Peoria, and where is a good play to stay.
The Riverfront Center recently hosted The Yule Walk where 200 visitors attended the event for an evening of story telling, dulcimer songs, info gathering by tourists and of course, refreshments.
Leslie Williams, the Communications and Media Relations Manager of the Peoria Area Convention & Visitor's Bureau explained that she "strives to maintain relationships with members regularly, communicating with travel writers,  media connections, news directors and reporters." Williams writes the press releases for the various conventions, sporting events, and other attractions. If a staff member or a partner makes the news, notification goes out to Facebook and is posted on their website (www. Peoria.org) as a way of further promotion of the positive activities that are successful.
Williams further explains that funding is one of their biggest challenges. They have previously received Tourism Grants from the State of Illinois. According to Williams, they receive funding in the form of  a percentage of the sales taxes on the number of occupants who stay overnight for an event. They also receive a percentage of the sales taxes on hotel occupancy from other cities in the eight county area. Williams covers/promotes a total of eight counties; however, she's quick to explain that she promotes Peoria first, as it receives that biggest draw of visitors.
Lelonie Luft is the Partnership Sales Manager. She solicits members, businesses, private organizations including restaurants, and social service organizations, for their partner-based organization, PACVB. This is all within an eight-county area. Luft said that she knows all of their members. These members are promoted through their Peoria Area Visitor's Guide, or the Annual Partnership Book.
Additionally, Luft says that members receive notification of the coming attractions four times per year. According to Luft, you don't have to be a member to benefit from being promoted by the PACVB, private or public from a list of attractions, dining information, and entertainment available. Luft further stressed that members are always first, but that she and the other staff will also promote non-member activities, such as one day conferences because it promotes the whole area.
"Sometimes," says Luft, she "will go to the individual city officials within the eight counties in an effort to promote "groups of people." This usually occurs after Luft has solicited the individual businesses or organizations and they feel that for whatever reason, that they can't be a partner. City officials believing that they are acting in the city's interest, will sometimes pickup the total cost of promoting their activities, businesses and organizations for the good of the whole.
Bob Marx is the President and CEO of the Peoria Area Convention & Visitor's Bureau. In a recent Peoria Journal Star article (11/15/2011) Marx said, "We bring in $10 to $12 million a year to this community in tourism dollars, but we need to be more transparent in our activities. We need to do a better job letting the city know what a bureau does."
Marx explains that he is a coach, mentor and leader to the people who work with him. According to him, the five funded cities that he works with know what the Convention & Visitor's Bureau can and can't do. Thirdly, he stated that "there is a need for an annual business plan, whose purpose is to attain goals and objectives."
Marx point out that "Our return on investment to Peoria is in the millions of dollars spent here on the activities that far outweighs the outlay."
Back in May of 2011, Marx was quoted in an Inter Business Issues article that "Peoria brought in 141 meetings and conventions of 200 or more in 2009, and 117 in 2010. The Office of Tourism issued an extremely conservative economic impact of those meetings tallied over $6 million spent in our area both in 2009 and 2010 or more than $12 million in incremental revenue from the convention trade." Marx further pointed out that in 2010, "66 sporting event of all kinds that 'Played in Peoria.' It is important for each and every resident in our area to know that the PACVB does not receive any funding for our operations from city/county general fund collections or income. We are entirely funded from taxes paid from hotel occupancy (beds) from visitors when they stay at one of our hotels."
"For Peoria to be recognized nationally, it needs greater visibility and cities need to continually advertise reasons for coming to Peoria and make it as easy as possible for people to make Peoria a destination." said Marx.