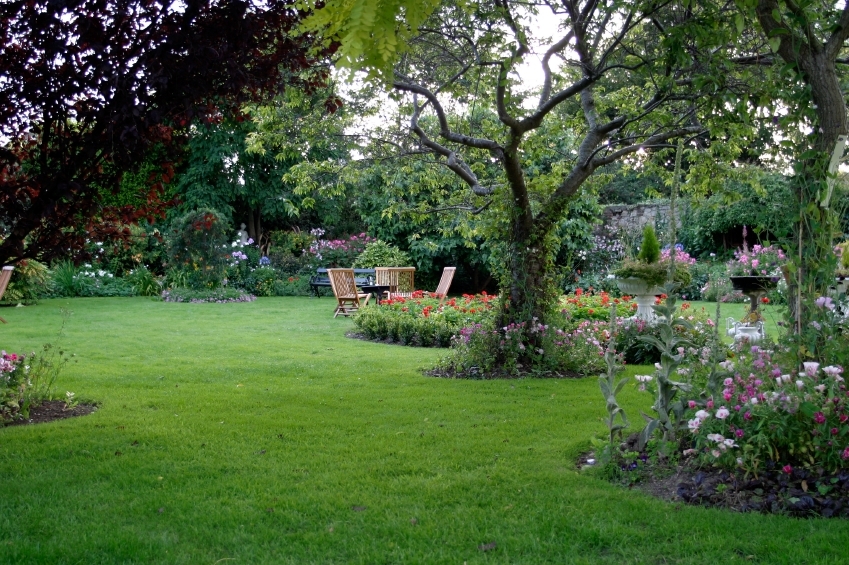 Bob Streitmatter, manager at Peoria Park District's Luthy Botanical Garden, would like to change your perception of a beautiful lawn and teach you how to maintain one. Minimizing turf by expanding garden beds is a good idea. Understand a little clover in the lawn is fine. Pesticides are not needed. Deal with a few dandelions by hand digging.
Streitmatter is up against a $35 billion chemical pesticide juggernaut out to convince you that only a perfect monoculture is beautiful. The best way to achieve that beauty is with prescribed, seasonal applications of chemicals. Ads with children and dogs rolling on the grass imply chemical perfection is absolutely safe.
But ask the manager at Luthy if chemical pesticides should be used on school grounds, playing fields, municipal property and around hospitals and nursing homes? Should homeowners be routinely applying chemicals to their lawns, especially if they have children or pets?
"Probably not. Without a doubt, I'm concerned with the amount of cosmetic lawn chemicals being used," said Streitmatter. "We don't know the long-term implications of these chemicals. Children roll around on the turf. They throw sod at each other."
The lines were drawn in this battle more than 20 years ago in Hudson, a tiny suburb of Montreal, Canada. The town voted to ban all cosmetic use of lawn chemicals at the prompting of a local physician who correlated pesticide use with health problems among her patients.
The chemical industry fought back, taking the case all the way to the Canadian Supreme Court that ruled in favor of Hudson. Other Canadian towns began implementing their own bans. The chemical industry responded aggressively to prevent what happened in Canada from happening in the United States. The industry lobbied state by state in this country and won preemption rules that prevent communities from universal bans.
In Illinois, state preemption laws would prohibit Peoria, for example, from banning all cosmetic use of lawn chemicals. But some states and communities have circumvented preemption by narrowing their bans. In 2005, Connecticut became the first state to ban synthetic weed killers around schools and day care centers in grades K-through 8. In 2010, New York State passed the Child Safe Playing Fields Act banning use of pesticides on the grounds of schools and day care centers. Other states have bills under review. Cuyahoga County, home of Cleveland, bans most pesticide use on county property.
Streitmatter is avoiding that battle. He's leading by example. Since he became manager at Luthy in 2005, he has quietly transitioned the botanical garden away from chemicals and toward natural practices. (Signs will be posted at some point in the future to explain the transition.) He follows Integrated Pest Management which means no routine applications of chemicals. Synthetic chemicals are limited and used only when necessary because other natural methods fail. However, the children's area at Luthy is completely chemical free, and there is clover in the turf in the rose garden.
Figures released by Pesticide Action Network show 78 million U.S. households use home and garden pesticides. More than 90 million pounds of herbicides are applied to lawns and gardens each year. More is applied around homes (3.2 to 9.8 pounds per acre) than agriculture fields (2.7 pounds per acre).
An Institute of Medicine study released 16 months ago states prenatal exposure to pesticides are linked to childhood cancers such as leukemia and brain tumors.
Weed killer is in the umbilical cord of babies born today in this country. It's in their mother's breast milk and in milk from dairy cows.
Streitmatter said that getting away from our reliance on pesticides requires us to change our perception of a healthy, attractive lawn. Prior to the 1950's, clover was considered part of an attractive lawn. Now, heavy advertising and marketing have changed our perception of an attractive lawn to one that's a monoculture of chemically-maintained turf grass.
"Let's not let chemical companies determine and frame the discussion," Streitmatter said. "A perfect monoculture of turf requires a lot of pesticides, fertilizer, money and labor. Chemicals kill the soil. With no microbial nutrients, grass becomes addicted to chemicals."
Dead soil creates additional stress on trees. Many oak trees in suburban America are dying as soil health diminishes due to heavy chemical use.
"If we diminish the health of trees, they become more vulnerable to other pathogens," Streitmatter said. "If soil is devoid of life beneath oak trees and if we have a year of drought like last year, we open the tree to other stresses."
In addition to teaching by example, Streitmatter is developing a series of classes to teach chemical-free methods of lawn care and help people transition from pesticide-laden lawn care to organic care. The first classes will be held in late summer or fall with follow-up classes likely scheduled for spring 2014.
By Clare Howard
Watch the Peoria Park District's Playbook issued in late summer for:
Organic Lawn Care, presented by Bob Streitmatter: Get real, it's your lawn not Augusta . . . consider the true cost in dollars, labor, environment, health.
The class will cover design for organic lawn care; soil as a living organism; feeding the soil; watering; mowing; selecting the right grass; weeds; making the transition.
The course syllabus includes recommended reading: "The Organic Lawn Care Manual: A Natural, Low-Maintenance System for a Beautiful, Safe Lawn," by Paul Tukey.