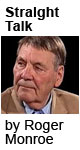 Never before in Peoria's rich educational history has there ever been such chaos in District 150. The Charter Oak mess created by Superintendent Grenita Lathan and supported by a totally incompetent board, in my opinion, continues. Here's the latest. The school's secretary, we're told, has resigned. Like former Principal John Wetteraurer, she was well-liked by students, faculty, and family. Meanwhile, the custodian, also highly regarded, has been transferred to another school. Rumor has it he was moved because he was a Wetteraurer loyalist. Such incidents give Change 150 more supporters for its mission.
On another subject, I believe the District 150 board violates the Open Meetings Act. A good example was the executive meeting the board held Wednesday, May 28, to discuss the mechanics of how to select a replacement for the defeated Laura Petelle. How did such a subject become a matter for a secret or executive session? That should've been an open discussion with opportunity for public comment. But if no one complains, they can meet privately on anything and get away with it. The newspaper had people years ago who would complain, but not today.
The secret organizational meeting aside, some names have been mentioned as possible replacement candidates. With respect, Jerry Brookhardt disqualified himself with his statement, "I'll bring harmony to the board." Are you kidding?
If this board could sing harmony, they could be on stage and there's one leaving tomorrow. Trouble is there's too much harmony. Last thing this board needs is more polarization. As Regional Superintendent, he had the power and influence to provide valuable guidance to Grenita Lathan and the board. He failed to do anything, publicly or privately to my knowledge. And I don't recall seeing him attend any board meetings, but then, I don't take roll for those chaotic gatherings. Jerry, forget it. At age 77, you may want to do a morning radio show.
SCRATCHING HEADS
People are scratching their heads over District 150's dedication of a room for wrestlers at Peoria High in honor of Dave Kinney. Kinney was employed as interim controller for just four years. Does that mean every administrative employee will get a room dedicated to them when they retire or quit or resign?
My Lord, it's a room for athletes, not pencil pushers. And it should be for past and/or present individuals connected to Peoria High. It's another demonstration of the lack of intellectual leadership of this administration and its elected board. And frankly speaking, if Dave Kinney had thought about it, he should have said, "Thanks, but no thanks. I really don't deserve this. It's inappropriate."
THEY DON'T GET IT
The local newspaper and some District 150 officials hyperventilated when only two parents showed up at Sterling School's open house. My wife and I are parents of two sons who attended Sterling. We were active members of Sterling's PTO. Here are my thoughts. Do the words "Neighborhood schools" mean anything? When our sons attended Sterling it was a neighborhood school, K-8. Open houses and the PTO were alive and well. Not so today. We bus children all over the city. Sterling has had so many identities they should have photos and hang them at the Post Office. Now Sterling is a middle school. It is not a neighborhood school in my mind. Principals are changed in the district more than diapers on a month old baby. That's not to hold Sterling parents accountable. Broken family units, unemployment for some and multiple jobs for others are also contributors to the lack of involvement. Let's face it, today's society is different.
SOME EXCLUSIVES
Some community leaders have been busy working on an exciting project that could lead to success in reducing crime among young people in the city. I can't give you any details, but I can say leaders have visited a city about three hours from Peoria to see first hand an educational program that is having positive results. They want to replicate the program in Peoria as soon as possible.
It will require District 150's support.
Plans are underway to honor Jim Thome in Cleveland. Yes, Cleveland, where the
Limestone and Illinois Central product was booed when he returned wearing a Philadelphia uniform. The Cleveland Indians will unveil a statue of Thome during ceremonies August 2, according to his father, Chuck Thome. Chuck says the only other Cleveland legend with a statue is the great pitcher, Bob Feller. Chuck will be there for the unveiling along with more than 250 family, friends and fans from Peoria.
JOURNAL IS OBSESSED
During a conversation with a close friend, I was asked why I thought the Peoria Journal was obsessed with efforts "to get Mayor Jim Ardis," while virtually ignoring the use of "pot" and falsely impersonating an elected official. My first response was a simple, "They don't like him."
"Why don't they like him?" my friend quickly asked. "Well, for one thing he's never slapped a woman around in bar. Secondly, he's never used drugs; thirdly he's contributed money and time to just about every charitable cause in Peoria and central Illinois. In short, Jim Ardis has led an exemplary life. That irritates liberal journalists." We both laughed. I added, "Look at the difference in writing about the Mayor of Peoria and the Superintendent of District 150 by the folks at the local newspaper.
The slant is so biased it makes me wonder what's in the water at that pee palace on the hill. And they wonder why circulation continues to drop year after year. Now they have so many paid obituaries and advertising inserts it looks like a weekly shopper." I do like their sports section….when I can find it. However, in the Saturday, May 31, issue, they printed American League standings twice, one of which was headlined National League. It appears the folks at the Journal don't read their own paper.
SCHOOL BOARD ARRESTED
Sharon Crews, Terry Knapp, and other critics of District 150 and its school board take notice of this story. At a recent meeting of the Park District board of Clark County, citizens were not permitted to speak about allegations of corruption and some controversies. One of those denied the opportunity to speak, John Kraft, then stood up and announced he was making a citizens' arrest of the school board members as provided under Illinois state law. Kraft then quoted Illinois law that states, "The failure of the board to allow the public a chance to address the board, even after being informed they were required to, means they have violated the open meetings act. That means their actions constitute a Class C Misdemeanor." The board's attorney, the daughter of the Park District's president, was shown the statute and acknowledged, apparently, the right of the arrest. Some members were held until the county sheriff arrived. The matter was turned over to the state's attorney's office. Clark County is in eastern central Illinois near the Indiana border with a population of about 17,000.
What is relevant to District 150 meetings is the statement that Illinois law requires public bodies to allow citizens the right to make comments whether or not the public comments are on the agenda and that refers to all public meetings.
In the meantime, 150 critics Terry Knapp and Sharon Crews have fired off letters to Governor Quinn, Lt. Governor Sheila Simon and State's Attorney Lisa Madigan complaining about the failure of the state board of education to hold investigative hearings.
WOAM vs WPEO
There's a local radio station battle taking place behind the scenes. Seems like the owner of WOAM wants a translator FM license that WPEO has been seeking. WPEO has a strong connection to Peoria. It was originally WMMJ and had studios on Fulton Street on one side of the alley between Jefferson and Madison. On the other side was the Clover Club. The sports director was Bob Leu, later the PA voice of Bradley basketball.
WPEO, a Christian radio station, is now owned by WPEO Radio Foundation, a non-profit corporation. They actually applied for the translator license first.
Along came Larry Nelson, of Nelson Broadcasting out of Plano, Illinois. He purchased WOAM after it went silent some four years ago under ownership of Bob Kelly of Kelly Communications. Nelson's management led to lay-offs for all of its employees after about one year and a year later he closed everything down except the signal. It now operates an automated music system with recorded music and weather in concert with another Nelson owned station in Minooka, Illinois. The system is broadcast from the WOAM transmitter outside Pekin. There are no employees or offices. Like WPEO, WOAM's roots date back to the early
1940's. Unlike WPEO, WOAM has a lengthy history of changes. The FCC will eventually determine who gets the license.
BRADLEY BASEBALL
The baseball season is over on the Bradley hilltop. The Braves, under Coach Elvis Dominquez, have won only 31 games while losing close to 100. The actual losses under Elvis, the coach not the late singer, stands at 96. That's a winning percentage of .244. That would qualify the Bradley coach to manage the Cubs, but not the Braves. Bradley had the chance to appoint Rick Heller who was then hired by Indiana State. The Sycamores had two NCAA appearances with Heller who's now the head coach at the University of Iowa. Mark Kingston applied for the Bradley job and didn't even get an interview. He was an assistant at Purdue and later associate head coach at Tulane when they qualified for the College World Series. Kingston was hired by Illinois State and they just played for the Missouri Valley tournament title, losing 4-1 to Dallas Baptist, but ended the season with 33 wins and 22 losses.
QUOTE OF THE MONTH
"You cannot live a perfect day without doing something for someone who will never be able to repay you."  —-John Wooden