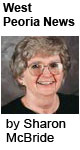 More traditional West Peoria summer events are planned for the first Saturday of June. June 7th marks both the 17th West Peoria Jamboree Run in the morning with the Jamboree and Scout Carnival that evening. Join runners for the 4-mile race through the streets of West Peoria.  A 1-mile fitness walk is also planned. For the safety of runners, there will be limited access into/out of West Peoria during the race.  5:30 – 6:30 a.m. is Race Day registration with the 4-mile run and 1 mile fitness walk starting at 7:00 a.m. All events originate at the Franciscan Recreation Center area.  8:00 a.m. is the start time for the Children's Fun Run. There is a $25.00, early registration fee, and a $30.00 registration fee after May 31. Race Directors are: Jamie &April Silver. Contact them at: (309) 675-9048 or hihosilverfamily@gmail.com.
The Scout Carnival runs from 3:00 – 7:00 p.m. with games run by the scouts of Troop and Pack 11.  Buy tickets, play carnival games and win prizes for a small amount of money while helping the Scouts. This is the main fund raiser for the scouts and allows the community to interact and play games with them. Stay at the Franciscan Recreation Complex all evening and enjoy this special day in your community with family fun, food, music, drinks and the games. Madison 221 will play a wide range of music from country to rock. Bring lawn chairs, family and friends. Enjoy your evening out in West Peoria. The Peoria County Sheriff, Franciscan Recreation Complex, Peoria Park District, Illinois Valley Striders and the West Peoria Fire Department assist the West Peoria Residents Association and the Jamboree committee in this stay-cation opportunity for you.
Look around our community at all the people who contribute so much of themselves and their time so that we can truly enjoy the nice things that West Peoria offers us all. Now is the opportunity to nominate that person to be grand marshal in the annual 4th of July Parade. Submit recommendations to Mark Whrel at 472-4258 or mwhrel@comcast.net or James McCarter at 208-3516 or jmmccarter2008@gmail.com. If you want to be in this year's parade, contact either Mark or Jim at the above for contact information to register. The parade steps off from Rohman and Sterling at 10:00 a.m., travels Sterling to Moss, to Waverly to Rohman back to Sterling and takes a right on Sterling to the Franciscan Recreation Community Flag Pole for the flag raising ceremony.
Start getting our community ready to greet the thousands of people who visit for this event, the oldest running 4th of July parade in the central Illinois area. Plan a yard party; let others see what a good community we are. Enjoy what we can offer outsiders.
Mayor Dillon wants all to be aware that the largest construction project in West Peoria will take place this year. Sterling Hill from Farmington Road to Nebraska will be rebuilt. The work involves two projects. This is a busily traveled road with the 2012 IDOT traffic count at 14,800 vehicles a day. The first project involves the Farmington Road and Sterling Avenue intersection and is under IDOT's jurisdiction. Work on the project has begun with relocation of utilities. The second project is a complete rebuild of Sterling to Nebraska Ave. West Peoria City Council has been preparing and planning since 2007 for this project. Funding is a combination of federal, state and local; federal grants will be for 70% or $3.2 million. The City covers financing for the rest of the project.  Reconstruction of Sterling is to begin in early June and be completed by November. There will be a three month overlap with the IDOT intersection project. Southbound lanes (down) will be closed and rebuilt along with the median. Detours will be either Park Road or Pierson Ave. Northbound lanes (up) will remain open. Northbound lanes will be closed and rebuilt once the southbound lanes are done.
With property taxes become due this spring, it will be necessary for them to be paid at any local banking facility or at the Peoria County Courthouse because West Peoria Township voted to no longer maintain the position of tax collector. Southside Bank will be the nearest bank facility for property owners in West Peoria.
A second Senior Citizen social for West Peoria is scheduled in City Hall on Thursday, June 26 at 1:00.   Stop by City Hall and enjoy the social time offered. Bring a guest and take the time to get to know others with similar interests.
Wednesday, June 11 at 6:00 p.m., Tammy Finch, Web Services of East Peoria, will present updates on Social Media and Internet Related Problems to the Neighborhood Watch at City Hall Take the opportunity to attend and update yourself on this issue. Bring guests.
The West Peoria Beautiful Committee spent two days this spring cleaning and doing prep work for plantings throughout the community. The group plans to continue with their neighborhood beautification award this summer and award it to a member of our community who has noticeably updated and upgraded property. Keep an eye out in your neighborhood for homes with excellent improvements. Interested in helping with the beautification of West Peoria, call Maggie Moore at 673-0535.
View the City website: cityofwestpeoria.com with questions and concerns regarding city regulations.  Concerned with code violations, call the City Code Enforcement Officer, Bill O'Neill at 674-1993 or 370-1142 during his office hours on  Monday, Wednesday or Friday from 8:00 a.m. until noon. He also has hours on Tuesday from 8:00 a.m. until 4:00 p.m.
You can secure information and an application for the city's exterior paint program at either City Hall or on the website. This is for exterior paint only. There will be a reimbursement of 50% on paint purchased in West Peoria to a maximum of $250.00. If the paint is purchased outside West Peoria, the rate will be 30% with a maximum of $250.00. Paint is available at West Peoria Hardware within the city. Reimbursement of receipts upon completion of the project will be required for receiving the reimbursement.
All vehicles in the city without up-to-date license stickers will be in violation of city regulations and must be stored in a storage building.
The 4th Calvin Coolidge Mothers Club Reunion is being planned for August 25th at Sky Harbor on August 25th starting at 5:30 p.m. Mark your calendars and get some mom friends from CCS to attend.  Reservations may be made with any of the following; Mary Hamm, 697-4118; Alice Nash, 674-4308; Guydeen Roos, 258-1258; or Diane Craps, 633-0669.