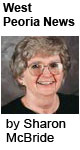 Sadly, one of our special summer events this year was unable to be held because of a rigorous rain storm. The Jamboree was unfortunately a "washout." Many hours were spent in preparation of this community event. Thanks and respect to those who worked diligently to organize it.
The premiere summer event is our annual 4th of July Parade and Flag Raising Ceremony.
The parade steps off from Rohman and Sterling at 10:00 a.m., travels Sterling to Moss, to Waverly to Rohman back to Sterling and takes a right on Sterling to the Franciscan Recreation Community Flag Pole for the Flag Raising ceremony.
Start getting our community ready to greet the thousands of people who visit for this event, the oldest running 4th of July parade in the central Illinois area. Plan a yard party; let others see what a good community we are. Enjoy what we can offer outsiders. Remove the garbage cans from the sidewalks. Put on West Peoria's best face for our many parade attendees. As many say that day, "Happy 4th of July".
Cosmic Dice will be featured performers at the Franciscan Recreation Center lawn on Sunday, July 13 from 3:00 to 5:00 in the WPRA first concert of the season. The four-some with guitars and rhythm will jam a mellow mix of oldies and goodies. Bring your lawn chairs, snacks and enjoy a musical time in our pleasant community.
The Senior Citizen social group for West Peoria is scheduled in City Hall on Thurs., July 24 at 1:00. Bring a guest and take the time to get to know others with similar interests. Refreshments and an enjoyable time are guaranteed.
Tammy Finch, Web Services of East Peoria, presented updates on Social Media and Internet-related problems to the Neighborhood Watch at City Hall. The July 9 meeting will meet at 6:00 p.m. in City Hall. Take the opportunity to attend and update yourself on various safety issues. Bring guests. It takes all of us to work together to make West Peoria one of the best.
The West Peoria Beautiful Committee spent two days this spring cleaning and doing prep work for plantings throughout the community. The group plans to continue with their neighborhood beautification award this summer and award it to a member of our community who has noticeably updated and upgraded property. Keep an eye out in your neighborhood for homes with excellent improvements. Interested in helping with the beautification of West Peoria, call Maggie Moore at 673-0535. Entries may be picked up at City Hall with a deadline of August 31. Award will be presented at the September WPRA meeting.
The West Peoria Residents Association will meet Thursday, July 17, at 6:30 p.m. in City Hall. No speaker has been scheduled. Attend and meet with the WPRA officers.
View the City website: cityofwestpeoria.com with questions and concerns regarding city regulations. Concerned with code violations, call the City Code Enforcement Officer, Bill O'Neill at 674-1993 or 370-1142 during his office hours on Monday, Wednesday or Friday from 8:00 a.m. until noon. He also has hours on Tuesday from 8:00 a.m. until 4:00 p.m.
You can secure information and an application for the city's exterior paint program at either City Hall or on the website. This is for exterior paint only. There will be a reimbursement of 50% on paint purchased in West Peoria to a maximum of $250.00. If the paint is purchased outside West Peoria, the rate will be 30% with a maximum of $250.00. Paint is available at West Peoria Hardware within the city. Reimbursement of receipts upon completion of the project will be required for receiving the reimbursement.
All vehicles in the city without up-to-date license stickers will be in violation of city regulations and must be stored in a storage building.
The 4th Calvin Coolidge Mothers Club Reunion is being planned for August 25th at Sky Harbor starting at 5:30 p.m. Mark your calendars and get some mom friends from CCS to attend. Reservations may be made with any of the following: Mary Hamm, 697-4118; Alice Nash, 674-4308; Guydeen Roos, 258-1258; or Diane Craps, 633-0669.
Interested in gardening? Join the West Peoria Garden Club with scheduled meetings on the third Monday of each month at 6:00 p.m. The Club tours gardens during the summer months. Anyone who would like to share their garden can contact Donna at 256-8233. Gardens are works of art, so there is no such thing as perfection. All gardens are candidates for a stop on a tour.
The Friends of Rocky Glen have two additional upcoming hikes on their beautiful private property. Meet in the gravel parking lot next to Jimmy's Bar on Farmington Road at 10:00 a.m. on July 19 and/or August 16. Dress for the weather and wear appropriate footwear for hiking.