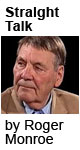 Famed actor Eli Wallach died recently at the age of 98. He was one of the actors in the movie, "The Good, the Bad, and the Ugly." Clint Eastwood was the good, Lee Van Cleef was the bad, and Wallach was the ugly. Peoria produced its own version of that movie featuring Mayor Jim Ardis as the good, 29 year- old cook, Jon Daniel, the bad, and Daniel's supporters, the ACLU and the Peoria Journal, the ugly. Given all of the print media's attention, I don't think it's necessary to amplify my thoughts. However, by review, we all know the fry cook fried Mayor Ardis with a twitter site/account he owned in which he impersonated the Mayor using profane and obscene words, phrases, and half sentences. In my opinion, having read some of Daniel's writings, the words were racist when referring to an Asia female body part and vulgar in describing sexual and drug activities. All, by the way, were written while posing as the Mayor of Peoria. 99.99% of Peorians don't know Daniel unless they ordered French fries from him.
Everyone knows Jim Ardis. I've known Jim for years. I knew his late father even longer. He's honest, dedicated, strong in his faith, and loves Peoria and the people who live here … well, most. No one deserves what Daniel did to Jim and his family. No one. Fun is one thing. Smearing his name, reputation, and his/our city is another. I found it almost comical watching the two different news conferences on television. Daniel strode into the room flanked by two unknown ACLU attorneys. Jim Ardis was flanked by Police Chief Steve Settingsgard, Peoria County Sheriff Mike McCoy and Peoria County State's Attorney, Jerry Brady, and friends. Reporters from the Journal were there. The good, bad and ugly. Now there's a parody. The series of PJS articles from the poorly written editorial by Beetle Bailey to the so-called open letter by a couple of beat reporters attacking Ardis fell short of good taste and good judgment, all too common in today's local newspaper.
In the end, the courts will decide where this will end. But the assertion by the newspaper and those that defend the 29 year-old cook that this story has given Peoria a black eye means only they're spending too much time on the Internet.
I have a few friends all over the country and in Germany and they haven't heard a word about the cook and his tweets. But then, they don't go to chat rooms or other gossip servers.
FAREWELL LAURA
Speaking of good taste and good judgment, both were missing at the June District 150 school board meeting. Laura Petelle, who lost to, as one friend said, an empty chair in her re-election effort, apparently lost it while listening to board critic Sharon Crews. In violation of parliamentary procedure, Petelle interrupted Crews in the middle of her remarks. Rick Cloyd, president of the board, should have ruled Petelle out of order. He didn't. Later, Superintendent Grenita Lathan, also violating the rules of order, opened her microphone and lambasted the 43 year teaching veteran. Again, Cloyd was silent, at least for a time. When the two finished with their rude tirades, Cloyd and the board attorney indicated Crews should be allowed to finish. Shaken, Crews finally concluded her remarks. Of course, Beetle Bailey had nothing to write about that horrible example of what has and is happening to Peoria's school district. That same week, I overheard a woman talking about moving her family to Washington to get out of District 150. So while the little Journal chipmunks worry about Mayor Ardis responding to vulgar attacks, the leadership of District 150 continues to give people reasons to move across the river.
REBUILDING?
A change of subjects is needed. How about baseball? How about those Chicago Cubs? Last I checked, in the middle of a rebuilding year, the Cubs were one of the three worst teams in the Major Leagues, trailing Milwaukee by 14 games. They said they were rebuilding 2014. Haven't they been rebuilding since they lost to Detroit in the World Series in 1945? A friend of mine, also a Cub fan like me, said, "I like what the Cubs are doing this year." I said, "What? Losing?" Say what you will about the Chicago Cubs, they have the best fans in the world. No other city or fans would tolerate such a losing tradition. None.
Baseball finally succumbed to the need for replays, long ago adopted by football, horse racing, and basketball. I think it has been a rousing success, although the umpires probably have a different opinion. And for good reason. Umpires have been proven wrong almost 50% of the time after official replay rulings. The official number to date is 47%. Just think … 47% of the time calls have been wrong. I wonder what it would be if baseball adopted electronic ball and strike pitches.
WALK FOR THE MIND
The 12th Annual Walk for the Mind will be held Saturday, September 27, at the Riverplex. All proceeds from the one mile walk along the riverfront will benefit the brain tumor research programs at the University of Illinois College of Medicine. The entry fee is $20.00. You can learn more by going to
www.marklinderwalkforthemind.org.
COMING SOON:
"BREAKfAST WITH
ROYCE AND ROGER"
They've been off the air since April 4, but the entire cast of radio's "Breakfast with Royce and Roger" will be returning in July. Their new home, 6 to 9, Monday through Friday, is FM 90.7, WAZU. Once again I'll be joined by co-host Alicia Butler, who'll also do local and national news uninterrupted by commercials, Mike Olson, Phil Salzer, Steve Young, Harry Whitaker, and Phil Theobald will handle sports. Expect the same informative and sometimes exclusive local and national guests along with great music that has made morning listening appealing. The show continues with lots of humor in the spirit of our dear friend Royce Elliott whom we miss dearly.
A TOUCH OF ROYCE
After examining his patient, the doctor said, "My opinion is you have an enlarged prostate." The patient said, "I want a second opinion." The doctor replied, "Okay. My nurse thinks you're ugly."
By the way, fund-raising is nearly complete as plans move forward to dedicate the remaining baseball field at Glen Oak Park after Royce. There will be a large stone with a plaque and a tree planted near the backstop of the diamond.
Royce was a talented athlete before he became a nationally acclaimed comedian. He played many games at Glen Oak during his four years at Woodruff High School and later competed in Sunday Morning League games. That was back in the days when thousands attended games at Glen Oak and Bradley parks.
MIXED OPINIONS
The jury seems to be out on the major improvements done at the busy intersection of Main and University. Some like it, some don't. On the other hand, what a great job the city has done on Northmoor Road between Sheridan and University! The sound walls installed on the south side of Northmoor are attractive as is the landscaping. A tip of the hat to the city!
QUOTE OF THE MONTH
"Keep away from people who try to belittle your ambitions. Small people always do that, but the really great make you feel that you, too, can become great." —Mark Twain