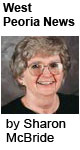 Saturday, September 6th is planned for the 14th Annual Night Against Crime from 3:00 until 5:30 p.m. at Franciscan Park. West Peoria Neighborhood Watch, Peoria County Sheriff's Office, City and Township of West Peoria, West Peoria Fire Department are all hosting this event. Special events/items planned are: bicycle rodeo, canine demonstrations, music by Nut & Honey, fire fighting equipment, Bearcat Armored vehicle, sno-cones, hot dogs, gate prizes and more. It will be fun for all. Plan to visit and bring family and friends.
Cub Scout Pack 11's sign-up for scouting will be at Whittier Elementary School, September 3rd from 5:00 until 6:00 p.m. or you can contact Robert DeSutter 369-8078.
The next Senior Citizen/Retiree social for West Peoria is scheduled in City Hall on Thursday, September 25 at 1:00 p.m. Stop by City Hall and enjoy the social time offered. Bring a guest and take the time to get to know others with similar interests. Some past activities include a pot luck, games, buffet at Fairview Farms.
The West Peoria Beautification committee has been tending our neighborhood community gardens with Jim McCarter watering the gardens with a watering system he devised for his truck that has kept the gardens beautiful and healthy.
The Beauty Award given to the residence with the most improved landscaping will be presented at the West Peoria Residents Association's September 18th meeting. Residences were nominated during the summer. The group meets at 6:00 p.m. at City Hall. The West Peoria Neighborhood Watch will meet Wednesday, September 10th at 6:00 p.m. at City Hall. Take the time to attend either or both of these community gatherings.
A sign of fall is the Annual West Peoria Fire Department Family Day scheduled for Sunday, September 21st. Take this opportunity to bring your kids and family to meet their first responders as well as view fire equipment, safety lessons and the ride on the fire truck. Introduce a new generation to this fun event.
Early voting for the November election can be done at the West Peoria City Hall on Monday, October 27 and Friday, October 31 between 10:00 and 6:00 p.m. The last day to register is October 7, 2014 at City Hall.
View the City website: cityofwestpeoria.com with questions and concerns regarding city regulations. Concerned with code violations, call the City Code Enforcement Officer, Bill O'Neill at 674-1993 or 370-1142 during his office hours on Monday, Wednesday or Friday from 8:00 a.m. until noon. He also has hours on Tuesday from 8:00 a.m. until 4:00 p.m.
You can secure information and an application for the city's exterior paint program at either City Hall or on the website. This is for exterior paint only. There will be a reimbursement of 50% on paint purchased in West Peoria to a maximum of $250.00. If the paint is purchased outside West Peoria, the rate will be 30% with a maximum of $250. Paint is available at West Peoria Hardware within the city. Reimbursement of receipts upon completion of the project will be required for receiving the reimbursement.
All vehicles in the city without up-to-date license stickers will be in violation of city regulations and must be stored in a storage building.