The land of Lincoln has long been thought of as a sociological microcosm of the entire country –– a hodgepodge patchwork of big cities, small towns, industry and agriculture. The same could also be said about the ecological regions in the state. Great Lakes, big rivers, flat land, hill country, bogs, swamps, sand country, forests and grasslands, have all come together in the melting-pot of our mid-continental location. Illinois is also geologically diverse. Glacial history and types of bedrock also influence existing habitats in Illinois. Added to all of this variety is the fact that our mid-continental location subjects us to some pretty strange weather patterns. A 60-degree temperature shift in a 24 hour period is possible here.
Luckily, some incredibly smart people have studied Illinois over the years. Back in 1973, John Schwegman, the Illinois State Botanist and his colleagues authored a technical report that defined 14 Natural Divisions in Illinois. According to Schwegman, "Natural divisions are geographic regions of a larger entity like a state or a continent. A division contains similar landscapes, climates and substrate features like bedrock and soils that support similar vegetation and wildlife over the division's area. Natural divisions help conservationists classify land for purposes like protecting natural diversity."
For the OLLI class I was teaching, it made sense to have students familiarize themselves with the Natural Divisions of Illinois. This gave us the underpinning knowledge to understand why habitats differ from one part of the state to another.
To learn more about all 14 of Illinois Natural Divisions, visit http://inhs-uiuc.blogspot.com/search/label/Natural%20Divisions. It is a great treasure trove of info and almost like taking a virtual tour of natural areas from one end of the state to another. It is an eye-opener to realize that we live in such a diverse state.
For example, in the northeastern part of Illinois, we have the Northeastern Morainal Natural Division that was all covered in glaciers as recently as 10,000 years ago. Long ridges of glacial debris (called moraines) dominate on the landscape. Illinois' only glacial lakes and true bogs are found in this region. Geologically, it is a very young landscape. In the northwestern corner of the state, we have the Wisconsin Driftless Natural Division. This area was never covered by glaciers, even though lobes of glaciers plowed around it during the many ice ages that have occurred. Geologically, it is a very old landscape. Its rocks and soils have been exposed to the elements for over 1 million years. Deep ravines and rugged terrain stand testament to the effects of water and wind over time. It is as different from the Northeastern Morainal Natural Division as you can get, yet the two are only 100 miles away from each other.
Go 400 miles to the south, to the tip of southern Illinois, and you come to the Coastal Plain Natural Division. Here, the Mississippi and Ohio Rivers converge to form southern swamps filled with trees such as Bald Cyprus and Water Tupelo. If you didn't know you were in Illinois, you would think you were in a Louisiana bayou. At one point in Illinois' history, great swamps of the south stood on our southern doorstep. These remnant swamps remind us of that time.
I hope that the OLLI participants leave with the understanding that Illinois is a diverse state. Glacial influence and arctic remnants are found in the northern part of the state. Southern Bayou and coastal remnants are found in the south. In between these two ends of the state is a vast area mixed with different types of forests, prairies and wetlands. We live in a uniquely diverse region of North America.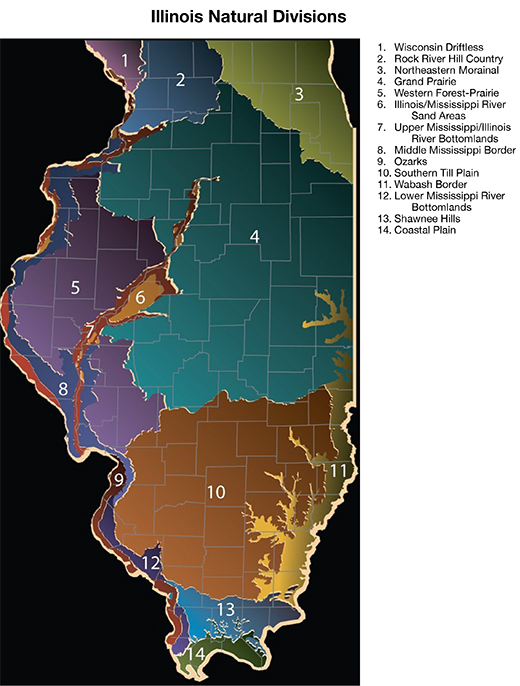 How do ecologists make sense of the varied landscapes and habitats that make up the vast state of Illinois? This was a question that I hoped to answer at a recent Osher Lifelong Learning Institute (OLLI) program I was doing for Bradley University's continuing education program. If you are unfamiliar with OLLI, it is a great opportunity for folks 50+ in age, to take both classroom and field experiences in a number of topics. It is a great opportunity to experience a subject without the pressures of grades, credits, or semester-long commitments. The program I was doing for OLLI was titled "Ecosystems of Illinois." That's no small topic. Illinois is almost 58,000 square miles. It measures 400 miles from north to south, and 215 miles from east to west. It is located in the central part of the United States and receives ecological and climatic influences from all directions.