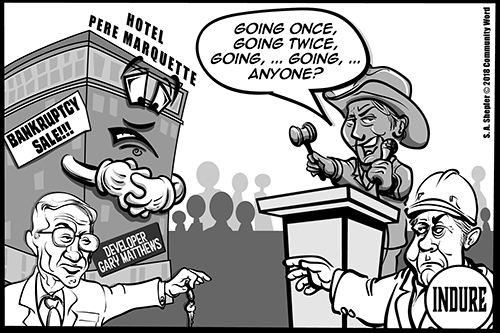 Paul Flynn, business manager of IBEW Local 34, lamented recently about a columnist in the Journal Star who ridiculed the transfer of the Hotel Pere Marquette from the local ownership of Gary Matthews and partners to INDURE Build-to-Core Fund, National Real Estate Advisors.
The columnist wrote that after a demoralizing descent into bankruptcy, " . . . the property goes into the hands of the primary lender, a union pension fund –– not exactly a typical hotelier. Chances are, the hotels eventually will be sold."
Actually, Peoria can count its blessings. We have cause for hope and optimism with INDURE.
The Washington, D.C.-based company has assets under management of $5.5 billion. According to SEC filings, annual revenues are between $25 and $100 million.
It is an independently operated subsidiary of National Electrical Benefit Fund and invests in major real estate sectors including mixed use, apartments, office, retail, industrial, hotel and data centers.
Some of the properties it operates include Westin Phoenix Downtown, Phoenix, Ariz., with 220,165 square feet and 242 rooms, now ranked among top hotel properties in the Phoenix market; The Bloc, Los Angeles, with 2 million square feet and the Sheraton Grand Los Angeles hotel; East Market, Philadelphia, 775,696 square feet of mixed use.
It gets better. Here is a section of the National Real Estate Advisors mission statement under "Giving Back:"
"National seeks to make a difference in the communities across the country where we invest—revitalizing and improving districts, supporting local charities and community organizations dedicated to promoting the arts, education, the environment, sustainability and better working conditions.
We contribute at the corporate level and individually—our employees regularly volunteer in their local communities, including participating on the boards of local charities as well as non-profit organizations."
As for the comment "Chances are, the hotels eventually will be sold" –– also a good prospect. Here is a statement of strategy for National Real Estate Advisors:
"Secure prime development or redevelopment sites; Develop projects with modern amenities and technologies designed to outperform comparable existing product, creating significant value; Stabilize assets into well-leased, high-income producing core investments; Hold to realize ongoing core returns; Sell at opportunistic time."
With INDURE, it would be likely that everyone from maids to cooks to maintenance workers will earn good union wages with benefits and health insurance. That's income that will be spent in the local economy triggering a multiplier effect.
Yes, Flynn said, the strategy will be to get the hotel in top operating order with full occupancy and then sell at an optimum price. That will involve restoring the Marriott reservation system.
Flynn was told by INDURE officials that they plan to get the hotel running like a well-oil machine, and it will once again be the flagship Peoria always hoped it would be –– which is why the city saved it in the first place.
It looks like a win-win with INDURE. Clearly this is a better outcome than if the hotel became part of the Trump empire and workers had to fight for years trying to secure union wages, and the Trump ownership would likely appeal and exert political pressure to get property taxes on the hotel lowered.
Long and short of this, there was an inaccurate innuendo in the Journal Star about INDURE Build-to-Core Fund, National Real Estate Advisors. That inaccuracy has consequences, and it highlights the need for Peoria to have an independent, locally-owned daily newspaper that provides reporters with the time and resources to research and write articles that promote understanding and strengthen community. We are not well served by a newspaper owned by an out-of-state hedge fund that drains revenue from the community, shrinks the newsroom and focuses on crime stories and digital marketing rather than foundational journalism. Instead of foundational journalism, we have a daily newspaper that gives us a page one feature on "Chocolate," a local prostitute.