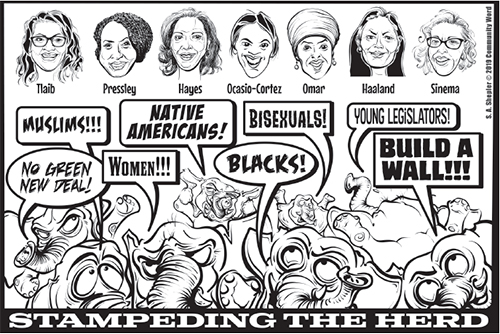 Here's a tally of the number of women in the U.S. House.
In 1989: 16 were Democrats; 13 were Republicans
In 2019: 89 are Democrats; 13 are Republicans
Why is that of any significance? Because diversity matters. History has proven that without diversity, Congress has been unable to craft public policy that represents everyone in America. Without diversity in Congress, more than half of our population is excluded from the decision-making process. Without diversity, essential perspectives are not represented and "group think" takes root. Clearly, the top 1 percent of income earners in American should not be crafting tax reform for the other 99 percent.
The 116th Congress is our most diverse ever, but no party can rest on its laurels. One message of the Sunrise Movement, a youth protest: "Dear Democrats, Step Up or Step Aside."
Here are some of the new women in Congress who bring diverse perspectives to leadership positions:
Ilhan Omar, D- Minn., is a Muslim Somali-American who came to this country with her father after release from a refugee camp in Kenya. She wore a hijab Muslim head cover at her swearing-in ceremony. I doubt she will favor separating children from their parents at America's southern border and caging them in refugee camps.
Rashida Tlaib, D-Mich., wore her traditional Palestinian thobe, an ankle-length Arab garment for her oath of office which she took with her hand on the Quran. I doubt she favorably views Donald Trump's disparaging remarks about "sh** h***" countries.
Lauren Underwood, D-Ill., is the youngest Black woman ever elected to Congress. She has two master's degrees, one in nursing and one in public health. She worked in Barack Obama's Department of Health and Human Services on improving the Affordable Care Act. Trump's efforts to repeal Obamacare will meet an obstacle here.
Ayanna Pressley, D-Mass., is the first Black Congresswoman from Massachusetts. She did modeling and voice work in school and appeared in a Planned Parenthood ad. A survivor of sexual violence, she works to combat all forms of sexism and gun violence and calls Trump "a racist, misogynistic, truly empathy-bankrupt man."
Deb Haaland, D-N.M., wore her traditional pueblo clothing with moccasins and turquoise jewelry representative of her Native American heritage for her swearing in ceremony. There is no doubt she will challenge elevating the corporate, moneyed interests of the fossil fuel industry above the sacred lands of Native American people.
Jahana Hayes, D-Conn., is her state's first Black congresswoman. She was 2016 National Teacher of the Year. She clearly takes a dim view of Betsy DeVos' efforts to dismantle public schools and use government money on private schools.
Kyrsten Sinema, D-Ariz., wore a pink outfit with a furry pink collar at her swearing-in. She is the first openly bisexual person in the Senate and sure to challenge Trump's opinion about LGBTQ people in the military.
Then there is Rep. Alexandria Ocasio-Cortez, D-N.Y., the youngest person ever elected to Congress at 29. She wore all white at her swearing in to recognize the official color of the suffragist movement.
Her opponents like to refer to her as a "former part-time bartender." She graduated from Boston University cum laude with a major in international relations and a minor in economics. She was an intern in the immigration office of U.S. Sen. Ted Kennedy. After graduating from college, she returned home to the Bronx and worked as a community organizer until the recession hit, and she took a series of jobs including waitressing and bartending to help her mother after her father died from lung cancer. She and her mother struggled to keep their home out of foreclosure.
She traveled to Flint, Mich., and Standing Rock, N.D., and describes that experience as her "tipping point." She speaks to the frustrations of working Americans and to the passions of social justice advocates.
She is a democratic socialist and believes in criminal justice reform, tuition-free college, universal health care and the abolition of ICE. She believes in universal access to jobs that pay a living wage, clean energy and progressive income taxes. She is an advocate of the Green New Deal that recognizes the world is running out of time to mitigate climate change.
Let's watch this diverse new dynamic in Congress stand up and push hard for public policy that reflects American values.