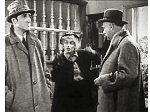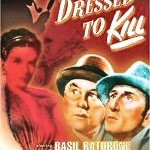 One of fiction's best-known figures performed by one of the best actors in the role will show on Saturday, April 28 at downtown Peoria's nonprofit Apollo Theater: Basil Rathbone as Sherlock Holmes in "Dressed to Kill."
"Holmes is the most popular and widely known character in fiction," says writer Nancy Senter, " – not Mickey Mouse, Not Santa Claus, not James Bond, but Sherlock Holmes and Dr. Watson."
Rathbone starred as Holmes in 14 films for 20th Century Fox and Universal, plus 273 radio shows. In "Dressed to Kill" (1946), the last Holmes movie starring Rathbone, his Holmes is hunting for a set of music boxes that hold the secret to the location of plates stolen from the Bank of England.
Rathbone had been notorious for some of his villain roles in pictures such as "Captain Blood," "The Mark of Zorro" and "The Adventures of Robin Hood." His co-star as John H. Watson, M.D. was Nigel Bruce, who'd been featured in "Treasure Island," "The Scarlet Pimpernel" and "Rebecca."
"Dressed to Kill" co-stars Patricia Morison.
Show times at the Apollo are at 7:00 p.m. Donations are $5 and $4 for kids, students and seniors. For details call (309) 673-4343.