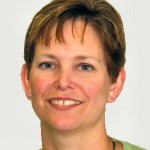 Proctor Health Care is pleased to announce that Mandy Carballido, Director of Human Resources, has been designated a Certified Employee Benefit Specialist (CEBS) by the International Foundation of Employee Benefit Plans and the Wharton School of the University of Pennsylvania.
Carballido qualified for the designation by passing a series of college level national examinations on employee benefit subjects, and by meeting and attesting to high standards of business and professional conduct. Ms. Carballido is one of 12,000 who have achieved this designation.
The Hanna City resident has been employed by Proctor for 13 years.