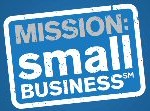 The Community Word is in competition for a BIG grant to help grow the Community Word.
I need YOUR help!! The only way to be considered for the grant is to gather 250 votes and I need them by midnight tomorrow (June 30th).
Can I ask for your vote?
Just go to: www.missionsmallbusiness.com
At the bottom right is a place you can go to vote for YOUR community paper! All you have to do is to then type in Community Word and then vote!
I would appreciate it. If the paper won, you would see more news, more reporting, more community input!
Thank you
Debbie Adlof,
Editor/Owner
Community Word