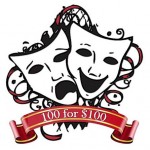 Since 1919, our doors at Peoria Players Theatre have remained open because of all of you — our loyal patrons, performers, volunteers and friends. For 93 seasons, PPT has strived to present outstanding live theatrical productions and give the many talented individuals in the area a creative outlet. Despite obstacles like the Great Depression, the financial collapse of 2008, and several venue changes, it is our continuing goal to pursue that mission.
And while our productions are good, they can be better. We hope to improve the Peoria Players experience for participants and patrons alike by replacing our failing sound system. We have received criticism about this for several years, and we want you to know we hear you. Now it's time for you to hear us.
With a brand new, state-of-the art sound system that will replace nearly all of the components of our current system, you will no longer have to strain your ears during a beautiful ballad, then cover them minutes later when an enthusiastic actor raises his voice. The days of speakers squealing and mics cutting out will be in the past.
But we need your help. Peoria Players has set a goal to raise $15,000 by the end of 2012. To raise two-thirds or $10,000 of that total, we are excited to announce our fundraising initiative "100 for $100." We hope that 100 supporters will donate $100 to move Peoria Players Theatre forward.
If that amount is beyond or below your giving ability, a donation of any amount — $10, $50 or $500 — will help our goal become a reality. If you donate $100 or more, your name will appear (with your permission) on our fundraising campaign tracker in our lobby.
Thank you in advance for your donation and your continued support. Together we can enhance your theater experience.
Yes, I want to help Peoria Players Theatre improve the entertainment experience for its productions! Here is my tax-deductible contribution.
Please specify the amount of your contribution below:
______ $100
______ $75
______ $50
______ $25
______ Other
Thank you for your support!