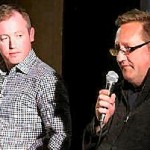 Peoria native Sean Patrick Fahey directed "Bailout: The Dukes of Moral Hazard," which will have an extended Peoria premiere at downtown Peoria's nonprofit Apollo Theater Oct. 5-11.
The 85-minute documentary looks at the human cost of the 2008 financial crisis and the one-sided government assistance to Big Banks, but it alternates between facts and fun, as a jobless Chicago lawyer and four of his unemployed friends go on a cross-country odyssey to see how Americans are doing, to defy the powers that be, and to party in an RV and in Las Vegas –while they still can.
Fahey – son of Mary Ann Fahey of the Ephphetha choir and various local café and catering ventures – attended Woodruff High School in the 1990s and since has produced commercials, music videos, and features.
Screenings of "Bailout" are $5 at the door – first-come, first-served. For advance tickets and show times, go to: http://bailoutusa.eventbrite.com/