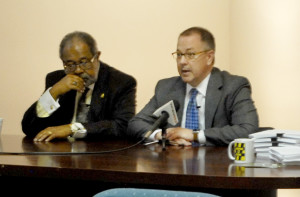 Attorneys Don Jackson, left, and Andy Hale speak at a press conference Thursday announcing a court petition they filed seeking a special prosecutor to re-examine the murder conviction of  Cleve Heidelberg who has been in prison since 1970.
What could prove to be one of Peoria's most egregious criminal prosecutions was dissected, analyzed and challenged in a 98-page petition filed Thursday morning in Peoria County Court.
The trial was 46 years ago, and the defendant has been in prison since then.
Attorneys Andy Hale and Don Jackson are seeking a special prosecutor to review all records and additional new evidence they have unearthed regarding the conviction of Cleve Heidelberg for the murder of Peoria County Sheriff's Sgt. Raymond Espinoza in 1970. Heidelberg, now 73, has been in prison since he was 33.
The petition begins:
"In the early morning hours of May 26, 1970, a lynching took place in Peoria, Illinois. There was no rope or tree and the man did not lose his physical life. But make no mistake; Cleve Heidelberg's life was taken from him through the unspeakable abuse of State power as surely as if his body had been left hanging from a tree."
During a press conference held after filing the petition Hale said that after spending more than a year reviewing court documents, examining evidence and conducting interviews, he is convinced of Heidelberg's innocence.
"No doubt in my mind," he said.
Jackson, who is president of the Peoria NAACP, said there are many troubling aspects to the case, including items taken from the scene of the accident that were flown to an FBI lab in Washington, D.C. Yet the FBI report was never submitted to the court, most likely because it was labeled "negative" meaning no fingerprints from Heidelberg were found on the gun used in the crime.
Evidence was withheld, witnesses were coached, one witness was paid and normal police investigative protocol was ignored in this case, the two attorneys said.
More surprisingly, another person confessed to the murder before Heidelberg was convicted. That person was James Clark who died shortly after Hale started investigating the case a year ago.
The 1970s was an era when racial tension was sweeping the country and Black Panthers were in the news. This case involved the murder of a white police officer by a black man.
Jackson said during the press conference that it was especially troubling to look back through the records and see how many African American men testified Heidelberg was not in the car, not part of the discussion leading up to the crime and not involved in the crime.
Hale said he sent letters to all names of people involved in the case in 1970 asking to meet and discuss the case. He would like to hear from anyone who has evidence of Heidelberg's guilt because he has not found any, he said at the press conference.
Before filing a petition with the court, Hale had asked Peoria County State's Attorney Jerry Brady to examine the case, but Brady refused to do so saying the evidence does not support reopening the case.
At the press conference, Hale said Brady has a conflict of interest because even though he was not state's attorney at the time, he was being asked to investigate his own office.
Hale also said Brady was obligated under a new rule that went into effect Jan. 1, 2016, to reopen a case when clear and convincing evidence is submitted that a defendant did not commit a crime.
"Jerry Brady did not follow the rules of professional conduct," Hale said.
Brady responded that he reviewed all the information Hale submitted and other material before deciding not to reopen the case.
He said he's very aware of the new rule that went into effect Jan. 1 and there was no violation on his part.
"We don't try these things in the press," he said, noting that Hale could file for post conviction relief in which he would set out the basis of seeking a new trial, and he has not done that.
Chief Judge Stephen Kouri met briefly with Hale and Jackson when the petition was filed and indicated he would review the documents and be in touch with the two attorneys within a week.
The press conference was held in the offices of private investigator Marcella Teplitz who is working with Hale and Jackson on the case.
Read past coverage of the case in Community Word at:
http://thecommunityword.com/online/blog/2016/02/01/unimaginable-injustice-45-years-in-prison/
http://thecommunityword.com/online/blog/2016/03/01/states-attorney-declines-to-reopen-heidelberg-case/
http://thecommunityword.com/online/cwnotes/2016/04/01/attorney-to-petition-court-to-reopen-heidelberg-case/