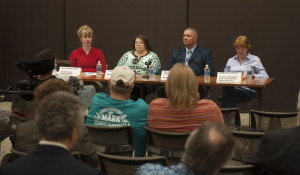 "Making a Killing: Guns, Greed and the NRA" drew an audience of about 50 people Thursday evening at a free public screening at Peoria Public Library North Branch. In the audience were both gun advocates and gun safety advocates. The documentary seeks common ground between those two groups.
The free public screening was co-sponsored by Community Word and Peoria NAACP.
The film looks at gun violence tragedies and how the NRA and gun manufacturers make billions of dollars in profit from maintaining the current culture of guns.
Following the film, a panel answered questions from the audience.
On the panel:
Deputy Police Chief Chris Ahart, Peoria Heights
Marcella Teplitz, former Peoria Police Detective; Private Investigator
Sharon Williams, Peoria County Board
Karen Wilson, Peoria NAACP
Addressing the panel, one audience member stated there was no gun violence in the film, only violence by people. In response to that, Teplitz said as a former police officer she saw far too many children killed by guns in Peoria not to take issue with that characterization of the film.
Chief Ahart stated that reasonable gun regulation does reduce gun violence.
Wilson noted that she was the only person of color at the screening. The film noted that African American men are 10 times more likely that white men to be killed by guns.
Williams said she and her husband are responsible gun owners and compromise does not mean taking guns away from law-abiding people.
At one point, attorney Jack Teplitz explained the evolution of the legal interpretation of the Second Amendment regarding gun ownership by a militia and by private citizens.
The film presents important statistics to understand the crisis and help further the role of reasonable background checks and waiting periods.
Statistics in the film:
48 percent fewer on-duty police are shot to death in states with background checks.
Chicago police seize an illegal gun every 72 minutes.
More Americans died of gun violence in Chicago between 2001 and 2010 than died in the war in Afghanistan.
74 percent of NRA members support universal background checks yet 40 percent of gun owners did not go through background checks.
"Making a Killing: Guns, Greed and the NRA" is a Robert Greenwald film by Brave New Films. For more information on the documentary go to: www.MakingAKilling.com.
Coverage of the event:
WMBD TV: http://www.centralillinoisproud.com/news/local-news/locals-discuss-gun-debate-try-to-understand-opposite-perspectives
WEEK TV: This link is not yet posted; it will be added when available.