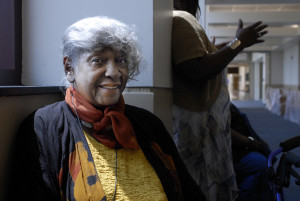 Mae Winston, Cleve Heidelberg's sister, has sent her brother spending money every month for the past 45 years that he's been in prison on a murder conviction. She has never doubted his innocence. Winston sits outside the courtroom here with her daughters Thursday waiting for a hearing to begin to consider naming a special prosecutor to review the 1970 murder conviction of her brother.
BY CLARE HOWARD
After 45 years in prison and repeated petitions, Cleve Heidelberg won his first court victory of sorts Thursday. His murder conviction in the shooting death of Peoria County Sheriff's Sgt. Raymond Espinoza will be formally reviewed by a special prosecutor.
Saying he was sufficiently concerned about the 1970 investigation and prosecution of Heidelberg, Judge Albert Purham, Tenth Judicial Circuit Court, ruled a special prosecutor would be appointed and set Sept. 22 for a hearing on the appointment.
Attorneys Andrew Hale and Don Jackson represented Heidelberg who was in court for the proceeding.
During the 1½-hour hearing, Purham listened intently as Hale reviewed new evidence and pointed out procedural problems with the case.
Hale said he has worked on literally hundreds of cases and has never seen anything like the Heidelberg case in terms of problems.
"The entire case was manufactured," he said.
"This case is begging for justice."
Peoria County State's Attorney Jerry Brady had previously declined to reopen the case saying he did not find any new evidence to convince him Heidelberg was innocent.
Brady attended the Thursday hearing only briefly to observe. Deputy chief assistant state's attorney Larry Evans objected to appointment of a special prosecutor, saying that Hale's case was nothing more than trying to deliver closing arguments for a case that was settled 46 years ago.
All the evidence was heard and presented to the jury and justice was done, Evans said.
Evans accused Hale of trying to claim police, the sheriff's department and the state's attorneys office were all part of a conspiracy in 1970 to convict Heidelberg.
"There is no case here, so no special prosecutor should be appointed," Evans said.
Heidelberg, 73, has consistently maintained he is not guilty. At the hearing Thursday, he told the judge he was prepared to argue for a post conviction petition for his immediate release. He cited his age and terminal medical diagnosis of congestive heart failure.
He told the judge he was unable to get the medical treatment he needed while in prison.
Judge Purham set a hearing on that portion of Heidelberg's petition for Sept. 22 immediately following the hearing on the appointment of a special prosecutor.
Heidelberg's sister Mae Winston, 77, was in court for the hearing. In frail health herself, she was tearful during some of the proceeding.
Winston has sent her brother spending money every month during his 45 years in prison.
Outside the courtroom she said, "I pray for the Espinoza family. They lost someone. I pray they consider that we lost someone. I know my brother is innocent."
May 26, 1970, Sgt. Espinoza was shot and killed in his patrol car when he responded to a call about a robbery in progress at the Bellevue Drive-In movie theater off Harmon Highway. Heidelberg's car was at the scene and police were led on a high-speed chase to the corner of Blaine and Butler where the car crashed into a parked vehicle. The driver jumped out and fled north.
Heidelberg said he had loaned his car to a friend. He was arrested later walking toward his car from the opposite end of Butler Street.
During the hearing Thursday, Hale said a number of witnesses who took the Fifth Amendment at the 1970 trial and declined to answer questions are now ready to come forward and testify under oath.
Reached after the hearing, Peoria County State's Attorney Jerry Brady said the appointment of a special prosecutor is separate from the pending post conviction issue and that must be addressed and clarified.