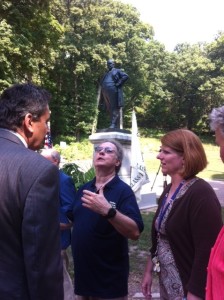 Peorian Ken Hofbauer, center, is speaking before the formal re-dedication of the Robert G. Ingersoll statue in Lower Glen Oak Park. Hofbauer and his wife Cheryl spearheaded the effort to restore the statue, and they are among the names of major benefactors listed on a plaque.
More than 150 people from several states and throughout Illinois attended the ceremony. The statue had not undergone an extensive restoration since it was first erected in 1911 and dedicated before a crowd of 6,000 people.
Ingersoll, who lived from 1833 to 1899, was a renowned orator, free thinker and atheist, often referred to as "The Great Agnostic." He served as attorney general of Illinois and maintained an extensive legal practice in Peoria, Washington, D.C., and New York. The statue was created by sculptor Fritz Triebel. Sculptor Zenos Frudakis volunteered to oversee the restoration that was funded by contributions from Freedom from Religion Foundation, The Robert Green Ingersoll Memorial Committee and the Peoria Secular Humanist Society.