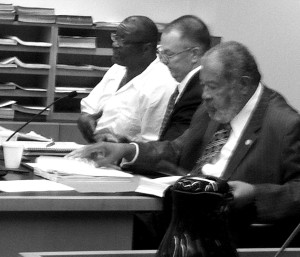 Cleve Heidelberg, left, and his attorneys Andy Hale, center, and Don Jackson in Peoria County Circuit Court Sept. 22. 
By Clare Howard
In a highly unusual and risky move, Cleve Heidelberg tried to dismiss his attorneys and represent himself Thursday in a hearing before Peoria County Circuit Judge Albert Purham Jr.
Heidelberg, 73, has been in prison for the past 46 years, having been found guilty in 1970 for the shooting death of Peoria County Sheriff's Sgt. Ray Espinoza.
On Thursday, Purham set another hearing for Oct. 5, telling Heidelberg he has two weeks to discuss his decision with his attorneys, Andrew Hale and Don Jackson. Purham warned Heidelberg that if his decision to represent himself remains unchanged, he should be prepared to start arguments immediately at that time.
"I have been ready these past 46 years," Heidelberg told the judge.
The judge called a recess Thursday to allow Hale and Jackson to discuss Heidelberg's request with him.
Hale told the judge he loves Heidelberg too much to "let this train crash. The stakes are too high."
After numerous appeals were rejected over the past 46 years, Purham's decision in July to appoint a special prosecutor to the case was the closest Heidelberg has ever gotten to having his original conviction reexamined and possibly vacated. In court Thursday, Heidelberg said he is not prepared to endure more years in prison while a special prosecutor works on the case. He seemed prepared Thursday to waive appointment of a special prosecutor and represent himself seeking immediate release.
Hale asked the judge if Heidelberg's sister, Mae Winston, 77, could talk briefly with her brother. She was in the courtroom. She is in poor health, has not been able to travel and has not seen her brother for more than a decade.
The judge cleared the courtroom and allowed 15 minutes for that meeting.
Afterward, Hale said it was an emotional meeting with a lot of tears.
"This has been a very difficult 45 years for Mr. Heidelberg. He's 73 and in poor health. He's frustrated, anxious and impatient," Hale said. "I understand where he's coming from."
Also in court Thursday were Peoria County State's Attorney Jerry Brady, assistant state's attorney Larry Evans, attorney Steve Nate from the Illinois Attorney General's office and Matt Jones, special prosecutor for the appellate court.
The hearing Thursday was dealing with two issues, the judge's motion to appoint a special prosecutor from the attorney general's office and Heidelberg's motion for immediate release, contending sufficient evidence has already been submitted to the court to prove his innocence and prove the original investigation in 1970 was seriously flawed.
The Peoria County state's attorney filed an appeal to stay enforcement of a special prosecutor, contending the judge had exceeded his authority. State's Attorney Jerry Brady had rejected a petition earlier this year from Hale and Jackson asking that the state's attorney appoint a special prosecutor.
Hale and Jackson both expressed frustration with the way the Peoria County state's attorney has handled the case.
"This is more confusing than it should be," Jackson said. All we want is to "get a fair set of eyes to review this case and so far we've just had a flow of paperwork."
Hale told the judge the state's attorney has made a conscious choice to delay the case.
"In my opinion, this is gamesmanship," Hale said, noting Heidelberg's age and diagnosis of congestive heart failure.
Community Word was unable to immediately reach Peoria County State's Attorney Jerry Brady for comment.