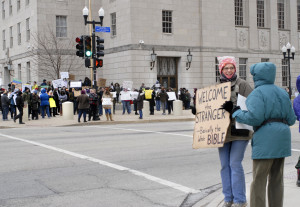 Teresa Brockman holds her sign "Welcome the Stranger – Basically the Whole Bible" at the Peoria rally protesting Donald Trump's immigration order.
Peoria was one of scores of locations across the country with protest rallies over the weekend against President Donald Trump's executive order on immigration.
Becca Taylor, organizer of the Peoria rally, said she started posting information about 9 a.m. Sunday morning, and four hours later people filled the sidewalk in front of the U.S. Federal Courthouse in Peoria on the corner of Main and Monroe streets with posters calling for an end to Trump's action.
People stomped their feet and layered with jackets, coats and blankets in below freezing temperatures and a frigid breeze.
To cheers and honks from passing cars, protesters chanted, "No Ban. No Wall. Trump will not divide us all;" "Build bridges, not walls;" and "Hey, hey, ho, ho, Donald Trump has got to go."
Lauren Padgett participated in the Peoria protest and said, "Unless you are 100 percent Native American, we are all immigrants."
Trump is turning away vetted refugees, she said, pointing out that in 1936, a ship with more than 900 Jewish refugees fleeing Hitler was turned back when it approached Miami. Subsequently, hundreds of the ship passengers were killed either in concentration camps or through other acts of religious persecution.
"One reason we have been so open to refugees is because of that huge shame, that huge scar on our country," Padgett said. "We have got to know our history."
State Sen. Dave Koehler, D-Peoria, was at the Peoria rally and said, "We are at a crossroads in this country. Make sure members of Congress feel the heat. Contact your representatives and let them know you want to move forward as a just and inclusive society."
One of Koehler's senate colleagues, Sen. Daniel Biss, D-Evanston, joined a protest at O'Hare International Airport Saturday night.
U.S. Senate Minority Leader Chuck Schumer, D-N.Y., held a press conference Sunday saying he is considering legislation to overturn Trump's executive order but needs some Republicans to support the bill.
Sen. John McCain, R-Ariz., said Sunday the Trump order will make America less safe and will boost ISIS propaganda.
MSNBC commentator Christopher Hayes tweeted, "The Women's March was astounding but it was planned for two months. Tonight was a spontaneous national protest. Never seen anything like it."
Illinois Sen. Dick Durbin tweeted, "Thank you @ACLU for your quick work" and "It's clear these executive orders were slapped together without a plan to implement them – I call on @POTUS to end these cruel policies now."