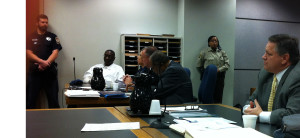 Cleve Heidelberg listened in court as his attorneys asked Peoria County Circuit Judge Albert Purham for Heidelberg's immediate release after 47 years in prison. Later in the hearing, Heidelberg sat intently watching a two-hour videotaped deposition by Matt Clark testifying that his brother James Clark had confessed to the shooting murder of Peoria County Sheriff's Deputy Ray Espinoza. Heidelberg has always maintained his innocence.
BY CLARE HOWARD
In a videotaped deposition played in Peoria County Circuit Court on Wednesday, a dying 76-year-old man testified his brother James Clark had confessed to the shooting murder of Peoria County Sheriff's Deputy Ray Espinoza in May 1970.
Cleve Heidelberg had been tried and convicted of that murder and has spent the last 47 years in prison. He has always maintained his innocent.
Heidelberg was in court Wednesday and listened intently to the videotaped deposition that had been taken in December 2016 in Las Vegas because Matt Clark is unable to travel and is currently undergoing chemotherapy for bone cancer. Matt Clark said he was speaking out now because his brother James is dead. Matt Clark said he had not wanted his testimony used to sentence his brother to life in prison or the death penalty.
In questioning by attorney Andy Hale, Clark said he took the Fifth Amendment and refused to testify at the trial in 1970. Clark also said he had been arrested by Peoria police on a drug charge and was told the charge could be dropped if he would supply information about Heidelberg's guilt. He declined.
Hale asked him what he would say to people skeptical of the veracity of his testimony now so many decades after the murder.
"What do I have to gain? Just personal knowledge before I leave this Earth that I can set something right," Clark said, noting his brother James died two years ago and he now felt free to speak about his knowledge of the crime.
Asked about the decades Heidelberg has been in prison, Clark said, "Very bad. Nothing to be done but there is now an opportunity for him to be free before he dies. But the damage is already done."
Clark said a younger brother, Mark Clark, had been killed in a police raid on the Black Panther headquarters in Chicago in 1969. He said his brother James told him he shot the Peoria County officer in retaliation for Mark's killing.
"Mark's death had affected him, and he looked for an opportunity for payback. He seemed proud he did it," Matt Clark said referring to the shooting of Deputy Espinoza.
Earlier in the hearing, attorneys Andy Hale and Amy Hijjawi expressed outrage that dozens of documents, possibly four boxes of documents, were not released to them despite numerous requests under the Freedom of Information Act.
Peoria County State's Attorney Larry Evans disputed that charge, saying all documents the office was able to find were sent to Hale. He cited several incidents when documents had been damaged and destroyed by water.
Hale complained to Judge Albert Purham that after months of ongoing foia requests for records, just days before this final third-stage hearing, he learned of the existence of four additional boxes of documents.
"Every day is precious for this man," Hale said gesturing toward Heidelberg, now 74 and in poor health after 47 years in prison. Hale suggested these four additional boxes of documents are part of a continuing pattern of delay and a failure to seek the truth in this case.
"Obstacle after obstacle after obstacle," Hale said.
"What is the appropriate remedy? We can ask for a continuance, but there should be more of a remedy. We have shown a pattern of bad faith and there needs to be consequences," Hale said.
"This man should be set free today to go home today."
Hale's co-counsel Amy Hijjawi told Judge Purham, "This is your clarion call for justice. Why these games to prevent truth and justice?"
There is no way to measure the value of a day for Heidelberg at this point, she said, asking Purham to release him.
Matt Jones, representing the state, characterized much of what Hale and Hijjawi said as emotional and irrelevant to the motion under consideration as well as being highly offensive.
Besides the broken pipes and water damage to court documents, many records from the original case had been shipped to Chicago and were destroyed, he said.
"Their appeal to emotion and to put Cleve Heidelberg's life in your hands is improper," Jones said, adding he follows the law and has done nothing to obstruct the proceedings in this case.
The state's attorney's office indicated all documents in the newly discovered boxes would be available for Heidelberg's attorneys Wednesday afternoon.
The judge set a hearing for 3:30 p.m. Thursday for testimony from Ron Hamm, an original prosecutor in the case in 1970. He granted a continuance in the case and set 10 a.m. Feb. 28 for the next hearing.
Heidelberg is returning to Hill Correctional Center in Galesburg.