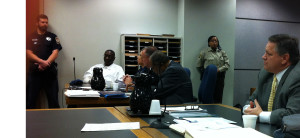 file photo
BY CLARE HOWARD
Heated exchanges, anger and finger pointing erupted during a 2 ½-hour hearing Thursday in an ongoing case reexamining the 1970 murder conviction of Cleve Heidelberg for the shooting death of Peoria County Sheriff's Deputy Ray Espinoza.
On the stand during the entire proceeding was former prosecutor in the case Ron Hamm, 75.
Heidelberg, 74, entered the courtroom in handcuffs accompanied by two corrections officers. His handcuffs were removed and he sat at the defense table with his attorneys. He and Hamm never seemed to make eye contact.
Andy Hale, attorney representing Heidelberg, attempted to show documents were either withheld from Hamm during the trial or false police reports were provided to the Peoria County State's Attorney's Office where Hamm worked as an assistant Peoria County State's Attorney.
In reexamining documents from the original trial, Hale told Judge Albert Purham the "entire investigation was corrupt."
Matt Jones, representing the state, countered saying this "reads like a crime novel. This is a fishing expedition."
Hale told the judge "the entire case is not reliable and not credible" and he was establishing the foundation for that allegation. He said after arresting Cleve Heidelberg hours after the shooting, police were faced with having holes in their case against him.
People who were at a bar in Peoria with Heidelberg at the time of the shooting were not called to testify. Two eyewitnesses who were at the Bellevue Drive-In movie theater at the time of the shooting were unable to identify Heidelberg in a lineup, but the police report provided to the court indicated both witnesses identified Heidelberg as the shooter.
Police officers claimed they could identify Heidelberg driving the escape car even though they trailed way behind as the car sped through narrow Southside Peoria streets at night going 70 m.p.h.
In one police report, Heidelberg was quoted saying "I know I done it. I'm guilty. I want to talk with my attorney and make a statement."
Hamm looked at that report and said he was sure he had never seen it before or he would have introduced it as evidence. Heidelberg has consistently maintained he was innocent and never confessed.
Hale referred to FBI reports indicating no fingerprints were found linking Heidelberg to the crime, but those reports were never presented to the court during the original trial in which Heidelberg was convicted and sentenced to 99 to 175 years in prison.
Hamm said, "There were no FBI fingerprint reports."
Hale said, "We now have the FBI reports" and contended this showed a pattern of selectively including or excluding evidence from the trial.
In a two-hour videotaped deposition played in court the previous day, Matt Clark testified that his brother James Clark confessed to shooting Espinoza.
Hamm testified Thursday the name James Clark never came up in court during the original trial. Hale asked about people who said that Heidelberg had loaned his car to Lester Mason and James Clark later borrowed the car from Mason.
Hamm said he was unaware Heidelberg's car had been loaned to James Clark.
Hamm said he had no recollection that FBI agents were sent to Rock Island to interview James Clark who had moved there from Peoria. Hamm had no recollection of an article running in the Peoria Journal Star based on an interview with James Clark confessing to the shooting.
The original trial was December 1970. Sentencing was in January 1971. The Journal Star article ran in February 1971.
Hamm said he was unaware of the newspaper article.
Matt Jones objected to numerous questions asked by Hale and said the law does not allow for the retrial of the case.
"We've already seen lots of problems with this case, but he can't relitigate this case," Jones objected, adding that it was questionable if all this new information would have changed the outcome of the original trial.
In one objection Jones alluded to alleged manufactured evidence, suppressed FBI reports, coerced witnesses and false reports as "Kafkaesque" contentions.
Hale's co-counsel Amy Hijjawi countered that it shows prejudice.
During a hearing Wednesday, Hale vehemently objected to Judge Purham that despite numerous requests under the Freedom of Information Act, he had learned just days earlier of the existence of four boxes of documents from the original trial that were not turned over to him.
He was given access to those boxes following the hearing Wednesday.
On Thursday he told Purham that there were six boxes of documents that were being copied, and in reading just some of the documents he saw a notation of the serial number of the gun used in the shooting and the name and address of the gun owner. It was not Cleve Heidelberg.
"That was never brought up at trial," Hale said. "I just saw the document yesterday."
The case continues on Feb. 28.