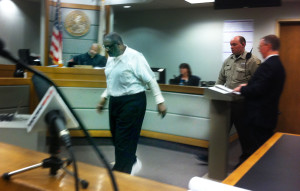 Cleve Heidelberg walks slowly to the witness stand — for the first time in nearly 47 years able to testify under oath about his innocence.
BY CLARE HOWARD
For the first time in nearly 47 years, Cleve Heidelberg testified under oath Tuesday about events before and after Peoria County Sheriff's Deputy Ray Espinoza was shot and killed.
Now 74, stocky and slightly stooped, Heidelberg walked slowly to the stand and began answering questions about a night in May when he was 27 years old.
He told the court he has spent the past 46 years, nine months and three days in prison for a crime he did not commit.
He testified he had been at the T.T. Club in downtown Peoria the night of May 26, 1970. He had loaned his car to a friend who wanted to pick up his girlfriend. Hours later, Heidelberg learned his car had been involved in a crash. His last walk as a free man was to the corner of Blaine and Butler to retrieve his Dodge Rambler.
Later, he learned the car had been used in committing an armed robbery at the Bellevue Drive-In movie theater.
Andy Hale, Heidelberg's attorney, said by the time his client was arrested in the early morning hours of May 27, the police were already convinced they had the shooter. Hale has spent nearly two years investigating the case and contends sloppiness and Constitutional violations merit either a retrial or release of Heidelberg.
Also testifying Tuesday for the first time was Lester Mason, the man who had borrowed Heidelberg's car.
With shackles around his ankles, Mason, 73, entered the courtroom. He and Heidelberg fist-bumped as Mason walked past the defense table.
"I never killed anyone, raped anyone, molested anyone," he said. But he's in prison for life following three convictions, at least one an armed robbery.
He testified he knew Heidelberg was innocent but didn't testify in his behalf because he had been coerced and promised leniency by prosecutors in the Heidelberg case. Mason took the Fifth, refusing to testify at the original trial.
Mason said in court Tuesday that he has regretted that decision.
He and Heidelberg had been together at the T.T. Club in Peoria when Mason asked to borrow Heidelberg's car to go pick up his girlfriend. But instead, he met with James Clark and Junius Whitt, and the three talked about doing a "stickup." When Clark and Whitt decided to rob the Bellevue Drive-In movie theater, Mason bailed out and went to the Blue Shadow Club, he said.
He told Judge Albert Purham he thought the idea of driving to the Bellevue Drive-In was "ludicrous" and questioned how much cash the drive-in would even have on hand.
Later that night, Mason said he got a call from Clark who told him, "Things didn't go right on the robbery. It was kill or be killed."
The car had been driven as a get-away car and had crashed at the intersection of Blaine and Butler.
Prosecutor Matt Jones asked why anyone should believe Mason's story now and Mason said, "It's the truth. I have nothing to gain. I know James did it. There is no watermelon, fried chicken or apple pie in this for me. I have no reason to lie.
"I have no dog in this fight."
He said Heidelberg was the only one who had a job at that time in 1970 and he was perplexed why he even hung out with the other three guys.
Peoria County Sheriff's Deputy Emanuel Manias had been the lead investigator in the case in 1970, and he was also called to testify in Tuesday's hearing.
Manias had filed a report some time after Heidelberg was arrested contending Heidelberg had confessed to him and wanted to make a statement and speak with a lawyer. Manias arranged a late night meeting between Heidelberg, then in the old Peoria County jail, and his public defender. Manias then wrote up a report about eavesdropped snippets of conversation said during that attorney-client consultation.
Attorney Hale questioned Manias, 79, about the alleged confession. He suggested that if this alleged confession had been true, it would have been introduced into evidence in the original trial, and it was not.
"This whole thing was a ruse to get the attorney to come to jail so you could eavesdrop on the client-attorney conversation held after 10 p.m. at night," Hale said.
Manias strongly denied that.
At one point, Hale said he wanted Manias declared a hostile witness.
Manias denied there was ever any effort to coerce or bribe Mason about testimony at the original trial.
Prosecutor Jones said Hale was trying to create unsubstantiated allegations of eavesdropping.
"There is no basis for improper police work. No basis for a Sixth Amendment violation," Jones said.
Heidelberg testified that he felt spied on constantly when he was in the Peoria County jail. When he spoke with his parents and sister on the phone about contacting eyewitnesses who could place him at the T.T. Club, police always seemed to get there first.
At one point, Heidelberg said he called the daytime bartender at the T.T. Club and the guy was irate because the parking lot was filled with police cars.
Heidelberg said it was tough because he knew his life was in the hands of his public defenders but he couldn't trust them because he couldn't figure out where the leaks were coming from.
Jones told Heidelberg he could not identify one of these eyewitnesses who didn't testify. Over Hale's objection, Jones solicited from Heidelberg that he had a couple of felony convictions in his past and one armed robbery in the 1960s.
Judge Purham set 1 p.m. March 31 for final arguments in the case.
As he has in almost every hearing, Heidelberg, who has congestive heart failure, objected to scheduling the next hearing weeks in advance because he thinks the evidence is clear he's innocent.