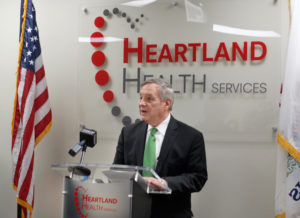 U.S. Sen. Dick Durbin, D-Ill., expressed fear for the human and economic toll if Congress proceeds with a Republican plan to repeal and replace the Affordable Care Act.
BY CLARE HOWARD
Minutes before U.S. Rep. Paul Ryan announced he couldn't deliver majority support and postponed the vote to replace the Affordable Care Act, Sen. Dick Durbin was in Peoria speaking at Heartland Health Services about the devastating human and economic costs the Ryan bill would impose.
If there is anything positive about this bitter, emotional national debate over health care, it's that more Americans understand what the Affordable Care Act means to them and even those who were once critical now support the ACA, Durbin said.
People are now aware of what they stand to lose, he said, noting that no major medical groups in the country supported Ryan's replacement bill, the American Health Care Act.
The ACA resulted in the largest expansion of Americans covered by health insurance in history.
Also speaking at Heartland was David Gross, vice president of the Illinois Health and Hospital Association representing 200 hospitals and 50 health systems. He said under the Republican bill, Illinois stands to lose 25 percent of federal Medicaid funding, amounting to at least $40 billion over 10 years.
Gross said the impact of these cuts on the state would be more than $8 billion in reduced economic activity, 55,000 to 60,000 lost jobs, 5,000 of those lost jobs in Peoria's two Congressional districts.
Durbin said he's been told House Republicans have called hospitals and medical associations in their Congressional districts to explain they have no choice but to vote for the Republican plan, but they expected the Senate vote next week would kill the Republican plan.
The Republican plan would force 63,400 people in the 17th Congressional District in Peoria to lose health insurance. Nationwide, an estimated 24 million would become uninsured by 2026.
Clearly, enough Republicans refused to pledge support for a dramatically flawed plan, and Friday's vote, at least, was postponed.
Gross said his organization has urged representatives not to support the Ryan plan.
Durbin cited skyrocketing costs of pharmaceuticals as one factor in rising premiums under ACA. He said the same drugs sold at extremely high prices in America are available in Canada at a fraction of the cost.
He supports a "Medicare-like plan" that would provide universal coverage.
Heartland CEO Charles Bandoian said the ACA "opened the door for high quality health care for many in central Illinois" and Heartland was disappointed with the proposed replacement plan.
Under ACA, he cited improved health care for diabetic patients resulting in dramatic health improvements that likely made the difference between life and death for some and eliminated the prospect of limb amputations for others.
Heidi Yerbic of Canton said the Affordable Care Act meant her family had coverage shortly before her husband had a type A aortic dissection. Today her husband, 40, is back to work and on medication that costs more than $2,000 a day paid by health insurance.
Without the ACA, the family would have lost everything, she said.
At one time, Durbin and his wife had a sick baby and were without health insurance.
"I don't want anyone else to go through that," he said.
He pledged to sit at the table and negotiate changes to the ACA if Republicans pull the plug on their "repeal and replace" campaign.
After the press conference Heartland's CEO said he and his organization have given serious consideration to a complaint from the ACLU about inadequate access to contraception among female patients at Heartland. He said the organization soon will be announcing new locations without religious restrictions on dissemination of comprehensive contraceptive counseling.