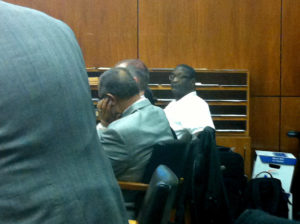 Cleve Heidelberg leans back and watches Matt Jones during his closing arguments telling the judge Heidelberg had his day in court, a jury found him guilty and there is no new evidence to exonerate him. Heidelberg has been in prison for 47 years for the shooting death of a white sheriff's deputy, a case his attorney alleges was fabricated.
BY CLARE HOWARD
In stunning closing arguments, attorney Andy Hale said a man in prison for the past 47 years was convicted on evidence that was fabricated, suppressed, false, manufactured and shameful.
"Police knew that first night, and police did not give a damn," Hale said. "There is no case. There never was a case. This is an unimaginable injustice. It is so outrageous, I could scream from the mountaintops."
Judge Albert Purham heard Hale and co-counsels Don Jackson and Amy Hijjawi work through almost three hours of closing statements.
At one point, retired police officer Paul Hibser, who had been involved in the 1970 police investigation and was in court listening to closing arguments, shouted objections to Hale's assertions. The judge immediately instructed bailiffs to escort out of the courtroom anyone disrupting the proceedings.
Appellate prosecutor Matt Jones said Heidelberg had his day in court, was found guilty by a jury and no new evidence has been introduced.
He characterized the case as a "giant cyclone filled with fearful, menacing forms" including a lot of passion, feelings, allegations, conspiracies, resurrections and stress.
"But when the whirlwind dies down, we are left with evidence," Jones said, and the evidence remains of Heidelberg's guilt.
The Heidelberg defense team recapped the night of May 26, 1970, starting when Heidelberg loaned his car to Lester Mason who wanted to pick up his girlfriend. Mason then loaned the car to James Clark and Junius Whitt who were planning a "stickup" at the Bellevue Drive-In Movie Theater. Mason testified that he later got a phone call from Clark who said, "Things didn't go right on the robbery. It was kill or be killed," referring to the shooting death of Peoria County Sheriff's Deputy Ray Espinoza.
Hale kept referring to the police log of that night, recounting the high-speed chase by police of the get-away car. The log showed police reported chasing the suspect who was wearing a yellow shirt and brown jacket. But when Heidelberg was arrested he was wearing a blue shirt and gray jacket.
Hale showed a map of the neighborhood around Blaine and Butler where the get-away car crashed and the driver jumped out and started running north. That was at 1:35 a.m. as police chased the suspect, losing him about four blocks north of the crash site. At 2:02 a.m. the radio log included a report of a black male about five blocks south from where police lost their suspect. The black man was walking toward the crash site. That was Heidelberg, responding to a call that his car had crashed and was left at Blaine and Butler.
"The police radio log pretty much disproves the entire case against Cleve," Hale said, adding that within two days, police knew the shooting couldn't be linked to the revolver found in the car.
So there was no ballistic evidence, no FBI fingerprint reports and no credible eye witnesses, Hale said, charging that's when police began fabricating reports to link Heidelberg to the crime.
"I have never seen a case like this. This is the most egregious case I've ever seen," Hale concluded.
In addition to local media, a television crew from NBC was in court Friday taping for a new program "Reasonable Doubt" set to air in late autumn.
Purham set a date of April 20 at 2:30 p.m. for his ruling on the case.