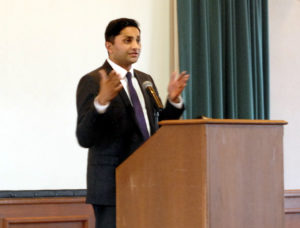 Top left: Theresa Brockman holds a sign at the "Build Bridges" rally in Peoria. Top right: Becca Taylor, organizer of the "Build Bridges" rally addresses more than 200 people at the event at the Gateway Building in Peoria. Bottom left: Chicago Alderman Ameya Pawar, a Democratic candidate for Illinois governor in 2018, said nothing good results when public policy is based on fear.
More than 200 people attended a rally for immigrant and refugee rights Sunday at the Gateway Building in Peoria. There were some shouts of support and applause during the forum, and nearly everyone acknowledged we are living during a fearful period when united action is urgently needed and tearing families apart is not an American value.
Charlotte Alvarez, an attorney with The Immigration Project, said many of her clients are facing  wrenching deportation actions.
Her organization provides pro bono legal help for immigrants in central and southern Illinois.
Chicago Alderman Ameya Pawar, a Democratic candidate for governor in 2018, said, "When public policy is built on fear, bad things happen."
He said bigotry and racism are being conflated with political campaigning and we find ourselves in a position of having to protect our friends from our federal government.
Retired judge Richard Grawey, pro bono immigration attorney, recommended these steps for fighting back:
Ask your church to become part of the sanctuary movement
Ask local police and prosecutors to be immigrant friendly
Contribute financially to organizations that help immigrants
Contact politicians and express your support for immigration rights
Other speakers included Dr. Jawad Javed, neonatologist; Serene Musaitif, Muslim poet, activist and student; Dr. Rahmat Na'Allah, physician and board member for Peoria City/County Health Department; Janet Bantz Glavin, volunteer with www.one.org and Congressional district leader; Aozora Brockman, Japanese-American poet; Sonny Garcia, board member of Illinois Peoria's Action; Alvaro Cruz, second year doctoral student at University of Illinois and participant in the DACA Program for immigrant children; moderator Dr. Farhana Khan, physician in internal medicine.
A nationwide "Day Without Immigrants" protest is planned for May 1.