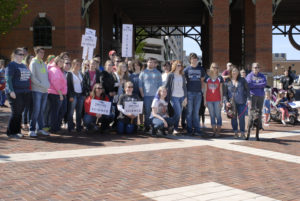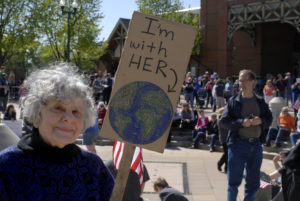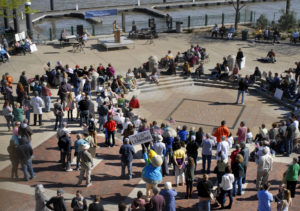 Clockwise from top left: About 30 students from Spoon River College attended the rally for science  at the Gateway Building in Peoria. 
Marlene Brockman holds a sign in support of Earth.
A crowd that grew to about 500 attended the Peoria science rally Saturday.
BY CLARE HOWARD
Science is not a partisan issue but is at the core of our national interest, Dr. Karen Bartelt said to about 500 people at the Peoria Rally for Science Saturday at the Gateway Building.
It was a theme repeated throughout the country and around the world as people protested by the thousands against climate change deniers and politicians who cut funding for science at the same time they cut taxes for corporations.
Saturday was the 47th Earth Day, and Bartelt said she remembers attending the first Earth Day on April 22, 1970, a celebration founded by Sen. Gaylord Nelson, D-Wis.
Science saves lives, Bartelt said, noting that in 1952, there were 52,000 cases of polio but after the discovery of the polio vaccine, there were 161 cases and that eventually fell to none by 1994.
"There are no polio deniers in Congress," she said.
Respect for science started to change in 1980 when presidential candidate Ronald Reagan declared that evolution was only a theory.
She urged the crowd to never back down in support for science.
"Work to remove politicians ignorant of the laws of physics and chemistry," she said.
Dr. Jeff Walk, director of conservation programs with The Nature Conservancy in Illinois, told the crowd his nephew recently asked him if he believed in climate change.
"Science is based on facts. I don't believe in climate change. I know facts, and I know climate change is real," he said, adding that the most devastating harm from climate change falls upon the most vulnerable.
"Stepping away from science is an enormous mistake for us, for nature and for our future," he said.
One of the organizers of the rally in Peoria was Megan Pulley. She said, "Science is our reality. We don't get to opt out of reality. It is light in the dark. I want my daughter to be passionate about science."
Pulley is urging people to donate to the science scholarship fund at the Peoria Public Schools Foundation.
About 30 students from Spoon River College attended the rally.
"We preach the importance of the scientific method and following the facts," said Spoon River chemistry teacher Bridget Loftus. "I feel facts are under attack and an alternative narrative is being pushed."
The policies of President Donald Trump spurred rallies around the world. Trump has disparaged climate change as a hoax, doubted the safety of vaccines and budgeted cuts to the Environmental Protection Agency and the National Institutes of Health and weakened protections for public lands and environmental protections. He talks about "clean coal" and bringing back the coal industry while loosening restrictions on carbon emissions.
Speaker Tracy Fox said at the Peoria rally that "clean coal" is the equivalent of "clean cigarettes."