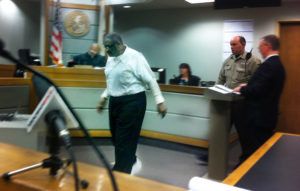 During his Feb. 28 hearing, Cleve Heidelberg walks slowly to the witness stand and for the first time in 47 years is able to testify under oath about his innocence.
BY CLARE HOWARD
Hill Correctional Center, the state prison in Galesburg where Cleve Heidelberg was incarcerated, determined it could no longer hold him following a hearing in Peoria Thursday where Judge Albert Purham vacated Heidelberg's murder conviction.
Heidelberg was serving 99 to 175 years in prison for the May 26, 1970 shooting death of Peoria County Sheriff's deputy Ray Espinoza at the Bellevue Drive-In movie theater.
In months of often emotional testimony, Heidelberg's attorney Andy Hale dismantled the case against Heidelberg and asserted there was no ballistic evidence, no fingerprints and no credible eyewitnesses proving Heidelberg was the shooter.
Special prosecutor Matt Jones immediately appealed Purham's ruling vacating Heidelberg's conviction. The judge declined to set bail, and a bond hearing was set for Friday April 28.
However, when Heidelberg was transported back to the state prison in Galesburg, prison officials determined they had no jurisdiction to hold him and the Peoria County Sheriff could pick him up or the prison would release him.
The Peoria County Sheriff's Department had Heidelberg picked up and transported to the Peoria County jail on Friday where he is being held most likely until the bond hearing April 28.
Hale expects his client will be released following the April 28 hearing.
"We showed that all the evidence presented at the trial was not credible," Hale said. "We have dismantled the evidence that was used to convict in the first place."
Hale believes Peoria needs an independent conviction integrity unit, a relatively new mechanism designed to provide a post-conviction procedure to determine wrongful convictions. Hale believes Heidelberg's wrongful conviction resulted in an innocent man spending 47 years in prison.
"This should be an independent search for the truth, and the state's attorney should welcome this with open arms," Hale said.
Heidelberg "has to be the longest-serving prisoner to have his conviction vacated," Hale said.
Matt Jones held a press conference following the hearing on Thursday and explained there is little legal precedent to determine the difference between new evidence and cumulative evidence. Judge Purham had to base his decision on new evidence, and Jones contends there was no new evidence presented only "cumulative" evidence.
At that press conference, Jones introduced Ray Espinoza's daughter Phyllis Espinoza who said she was disappointed in the judge's decision and "worries if Mr. Heidelberg is freed, who his next victim will be based on his violence."
Heidelberg, now 74, has congestive heart failure, walks with difficulty and has steadfastly maintained his innocence for the past 47 years.
Hale said because his client's conviction was vacated that will allow him to pursue civil remedies.