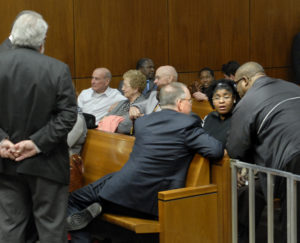 Cleve Heidelberg's niece Wanda Figgers listens as attorney Andy Hale, center, talks about the decision by Judge Albert Purham to return Heidelberg to the Peoria County jail and await a bail decision by the appellate court. There had been a widespread sense in the courtroom that Heidelberg might be released Friday after serving 47 years in prison. 
BY CLARE HOWARD
Cleve Heidelberg returned to the Peoria County jail Friday afternoon following a court hearing regarding what jurisdiction has the right to set or deny bail. Many in the courtroom Friday had expected his immediate release.
Filming the proceedings were news crews  from throughout central Illinois, Chicago and New York City. This is a high profile case with Heidelberg, 74, serving a 99-to-175 year sentence for shooting a white Peoria County sheriff's deputy in 1970. During hours of detailed testimony over many months, Heidelberg's attorneys used the police radio log from the night of the shooting to cast doubt on police reports that had been relied upon to convict Heidelberg 47 years ago.
In a stunning decision April 20, Peoria County Circuit Judge Albert Purham vacated Heidelberg's conviction.
Jesse Jackson was in Peoria for several days recently inquiring into the case.
But the issue of Heidelberg's release was delayed again, and Heidelberg's frustration was clear.
Prosecutor Matt Jones labeled the effort for immediate bail "inappropriate" and said that decision is not within the power of the Peoria court.
Attorneys Andy Hale, Don Jackson and Amy Hijjawi argued for bail and the immediate release of Heidelberg after Purham vacated his conviction last week.
Hijjawi, arguing on speaker phone Friday, said she was "stunned at the mischaracterization of the state and its misunderstanding" of legal precedent.
Purham, at one point, said he had reviewed all relevant cases and was not going to entertain back and forth arguments between Hijjawi and Jones, and the decision regarding bail would be made by the appellate court.
Following the hearing, Jones said a decision from the appellate court would likely be issued within a week.