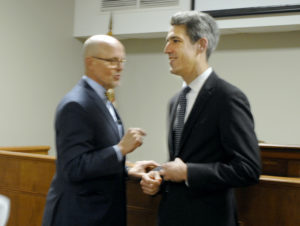 Sen. Dave Koehler, left, and Sen. Daniel Biss talk briefly Tuesday morning at the Labor Temple in Peoria before Biss spoke about his reasons for running for governor and fielding questions from a labor-friendly crowd. 
BY CLARE HOWARD
Illinois senator and gubernatorial candidate Daniel Biss stopped at the Peoria Labor Temple Tuesday to discuss labor issues, his vision for Illinois and why he chose this time to run for governor.
"We've had 30 years of broken machine politics. We need a movement of the people," Biss said, noting that he is being far outspent by the billionaires and millionaires in the race, but is convinced he can lead change that will work for the people of the state, not just the super rich.
Among his issues, Biss said:
Illinois has the most unfair system of public school funding of any state in the country, and Peoria public schools suffer. The system is based on property taxes, and that must change.
Prevailing wage and project labor agreements are fair and help create a strong middle class.
Illinois needs term limits on lifetime politicians.
Illinois taxes are too onerous for the working poor and the middle class.
Going 22 months without a budget means schools not only wonder if they'll open in September but must be concerned with having the funds to finish the school year.
With the vote in Missouri to become a right-to-work state, Illinois has literally become an island surrounded by states like Wisconsin, Iowa and Indiana that have right-to-work laws that seek to undercut unions.
He said Republicans are "obsessed with the idea that people in construction should be paid less."
"Rauner's way to grow the economy is to create a smaller middle class," he said.
The pension problem developed in Illinois "not for years, not for decades but for generations," he said. "Whatever else we do, we need a binding mechanism to make sure payments to the system are made to the system. We need actuarially required payments that are legal and fair."
Sen. Dave Koehler, appearing with Biss, said Gov. Rauner wants to privatize Medicaid.
"Rauner always wants to privatize things, and that's a big mistake," Koehler said.
Both Biss and Koehler noted in the case of Medicaid, that would amount to a $9 billion contract awarded to a private company.
Biss supports universal single-payer health insurance that would cover everyone. He called universal health insurance "a moral responsibility."
Biss graduated from Harvard University, earned a Ph.D. from the Massachusetts Institute of Technology and was a mathematics professor at the University of Chicago.
"It was my dream job," he said. Then the war in Iraq began based on dishonesty, and Biss began going door-to-door doing political organizing.
During that process, he concluded that people could rise up with a common goal and change the world. He ran for public office, lost and ran again. He served in the Illinois House from 2011 to 2013 and was elected to the Senate in 2013.
We now have a president who is "reckless, dishonest and makes dangerous decisions," Biss said. "Across Illinois we are seeing the start of a movement of people. The Capitol Building in Springfield is now the site of demonstrations."
People are demanding a massive improvement over the way government is operating, he said.