May 15, 2017
TIME GOES BY – A NEW LOGO FOR THE PEORIA HISTORICAL SOCIETY
 From phones to computers, everything needs an update now and then. Perhaps, after 83 years, the Peoria Historical Society logo was due for a change.
While the PHS Mission is to "Preserve, Share, and Celebrate the Stories of the Peoria Area", we're excited to publicize something absolutely NEW!
The Peoria Historical Society traces its roots as far back as 1839 but was not formally incorporated until 1934. The original logo, by Francis Fischer, celebrated and symbolized the history of the founding of Peoria and its ties to the Native American Indians.
The new logo, designed by Graphic Designer Taylor Ackerman of the Simantel Group, incorporates a stylized clockface, suggesting movement through time and the many stories the Peoria Historical Society endeavors to tell.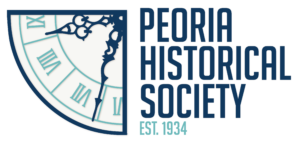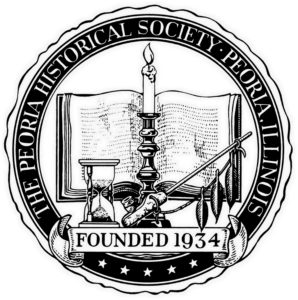 Please contact the Colleen Johnson, Executive Director of the Peoria Historical Society at 843-371-0373 for questions.