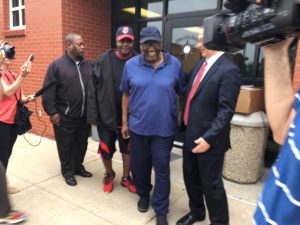 Cleve Heidelberg, center, smiles broadly as he walks from the Peoria County jail Monday afternoon after serving 47 years of a 99 to 175 year sentence. His conviction was vacated last month.
BY CLARE HOWARD
One of the longest held prisoners in U.S. history was released from the Peoria County jail Monday afternoon for an undisclosed location after 47 years in prison for a murder he has always claimed he did not commit.
Cleve Heidelberg, 74, was a young man when he was convicted in 1970 for the shooting death of Peoria County Sheriff's Deputy Ray Espinoza during an armed robbery at the Bellevue Drive-In Movie Theater.
Over those 47 years, Heidelberg sought and was denied parole 25 times. During a recent hearing, an attorney with the prisoner review board said those decisions to deny parole were based in large part on a report from the Peoria County State's Attorney's office that had originally prosecuted the case.
On Monday afternoon, there was a celebratory mood with attorneys, family, friends and media outside the jail. Despite a light rain, people were jubilant. Heidelberg smiled broadly but because of his congestive heart failure, he was noticeably breathless when he spoke.
Andy Hale, one of Heidelberg's attorneys, said his review of the case two years ago unearthed Constitutional violations in the original prosecution, and he found that evidence used to convict Heidelberg in 1970 was not credible.
Don Jackson, another attorney working on Heidelberg's behalf, said prosecutors in the case "were looking for an African American, and they found one, convicted him and case closed.
"Look around Chicago and you can see this happening. We have a broken system. African American males get to court with two strikes."
Jackson said he's glad to see Peoria County working to diversify juries and credited Judge Stephen Kouri for that process.
Heidelberg had been sentenced to 99 to 175 years in prison in 1970 by an all-white jury.
He was transferred from Hill Correctional Center in Galesburg to Peoria County jail in April when Judge Albert Purham vacated his conviction. Special prosecutor Matt Jones has appealed that decision, and that appeal is pending.
Purham set bond at $500,000 earlier this month, and Illinois law requires 10 percent of that for bail. Purham also ordered Heidelberg have a GPS monitoring system.
Speaking after his release, Heidelberg said, "I'm stepping from a graveyard back into life. Prison is a graveyard."
He heaped praise on Jackson, Hale, private investigator Marcella Teplitz and his friend Alstory Simon who was released from prison two years ago after serving 16 years on a wrongful conviction.
Heidelberg said he hopes to work with Simon on a national website for wrongfully convicted inmates.
In discussing Purham's ruling, Heidelberg said the judge did not vacate the conviction because the judge liked him but because the judge dealt with facts and evidence.
"The evidence showed I did not do what I was convicted of," Heidelberg said. "I am an innocent man. All these frivolous appeals will not be successful. Judge Purham will not be overturned."