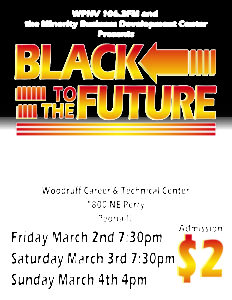 BLACK TO THE FUTURE
TO HIT THE STAGE MARCH 2, 3 & 4      
Black To The Future, a play written and directed by Garry Moore, will be performed
March 2, 3 and 4 at Woodruff Career and Technical Center, 1800 NE Perry in Peoria.
March 2, 7:30pm
March 3, 7:30pm
March 4, 4pm
General Admission is $2.00
Black To The Future, A Journey into Peoria's African American History, is based on
Dr. Romeo B. Garrett's book, The Negro in Peoria. It follows two students, played by Justin Worley (Richwoods) and Cameron Walton (Peoria High) as they travel through time meeting historical figures, including Jean DuSable, Frederick Douglass, Moses Pettengill, Annie Malone, Dr. Maude Sanders, John Gwynn, Frank Campbell, and many others.
"Through the students' journey, the audience can experience firsthand the struggles and triumphs of local African Americans over the course of history," said Moore.
Black To The Future was first performed in 1992 as part of Peoria's Tri Centennial Celebration. It was reprised in 2003.
"We've had to tweak it to freshen up the dialogue. The cool phrases young people say now are different than was the case in 1992. Also, we've added some characters–Gwynn, Campbell and Mark Clark are all new and we have some interactive media effects that will help us tell this important story," Moore said.
Black To The Future is sponsored by WPNV 106.3FM and the Minority Business Development Center.
"We've gotten a ton of support from the community," said Moore. "Peoria Public Schools, the Downstate African American Hall of Fame Museum, Bradley University Theater Department, Carver Center, Proctor Center, various businesses, and individuals too numerous to mention. We are very grateful. It's going to be a great show!"
For more information, contact Garry Moore at 309-264-5763 or email at modrum1@aol.com.