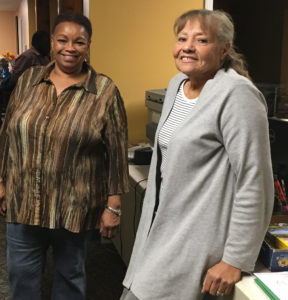 BY CLARE HOWARD
Don't even think of telling Jackie Petty or Helen King you're not going to vote.
Maybe you think you don't have time or you feel it's hopeless or that one vote won't make a difference.
This duo will seek you out and convince you otherwise.
King, 67, is known to approach young people congregating in convenience stores, and she'll pop the question "Are you registered to vote?"
The two have pursued this mission for more than 20 years. They are both members of the Peoria NAACP, and they set up tables at naturalization ceremonies, outside grocery stores and at community events..
Just sworn in as an American citizen? You won't get out of the door without being told you now have the right and responsibility to vote.
"We've been doing this for so long, it's in our blood," said Petty, 76.
She tells people, "Voting is your power. If you don't use it, you lose it."
Statistically, voting increases with wealth. Richer people vote more, and they vote their interest. That reinforces economic inequality and biased public policy that favors the rich and reinforces disadvantage for the poor. A government run by the wealthy is a plutocracy, not a democracy that represents all people equally.
"We focused on the older population in the past, but recently I've noticed that younger people don't understand that democracy requires that people vote. Some of that is because civics was dropped as part of the school curriculum," Petty said.
She recalls when she was at Peoria High School, one requirement for graduation was attending either a school board meeting, a park district board meeting or a city council meeting.
"I got hooked," she said.
See these two in action! Watch their video:
NAACP shares perspectives on why voting is essential for our community and our democracy. VOTE!

Posted by Community Word on Friday, October 19, 2018
"There is active voter suppression going on in other states. We are fortunate in Illinois with early voting and easy access to polling places," she said.
Tom Bride, executive director of Peoria County Election Commission, said Petty and King "are always working. Constantly. They do a wonderful job."
While residents of other states and people living on Indian reservations are dealing with active voter suppression, Illinois has expanded access.
People currently in prison in Illinois can't vote, but everyone released from prison, even those with a felony conviction on their records, can vote.
Bride said we have online voter registration, election day registration, early voting and vote by mail/absentee voting with no excuse required. All eligible voters can vote by mail.
That convenience has paid off. Bride said by mid-October, there were 9,200 voters in Peoria County who requested ballots for voting by mail, and 52.5 percent had already returned them. By comparison, at that point in the presidential election of 2016, he had only 7,600 requests for voting by mail.
"In Illinois, we're very fortunate," he said.
His offices moved from the former police station at 542 SW Adams St. to 4422 Brandywine Drive. Hours are 8:30 a.m. to 5 p.m. Monday through Friday. For more information, access the web site at: www.peoriaelections.org.