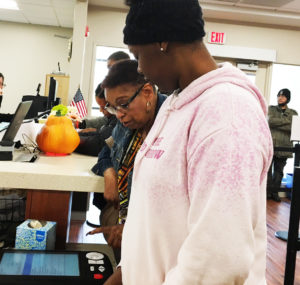 Helen King, left, with the Peoria NAACP, reviews voting at the Peoria County Election Commission with first-time voter Nae'Kirah Linwood before Linwood enters a voting booth.
King and teacher Holly Nelson instruct students in the options class about the process and responsibility of voting. Five Manual students were first-time voters Tuesday at the Election Commission, 4422 N. Brandywine Drive.
After she cast her ballot, Linwood, 18 and a senior at Manual Academy, said it was a good experience. Others in her family have already voted, and she plans to make voting a lifetime responsibility.
Early voting continues at the Election Commission office through Nov. 4.