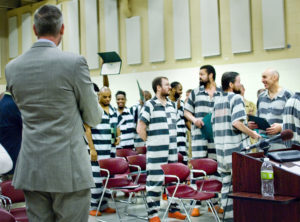 Illinois Treasurer Michael Frerichs, foreground, stands facing inmates at the Peoria County Jail as they cheer and wave their diplomas in the air at a graduation ceremony Tuesday.
BY CLARE HOWARD
Twenty-eight inmates in the Peoria County Jail stood and cheered Sheriff Brian Asbell Tuesday afternoon. They stood, cheered and waved their diplomas in the air at Illinois State Treasurer Michael Frerichs.
The occasion was graduation for the Jobs Partnership Re-Entry program. Asbell congratulated the new graduates and told them he'd write a reference for them to help secure jobs upon their release.
Volunteer Ron Budzinski said 100 men signed up for the program, 38 were accepted and 28 made it through seven-weeks of classes. In the past four years, 243 inmates graduated from the program.
During a speech, one of the graduates, Sam Jones, said he did not know people on the outside cared. He used to tell his family "it was us against the world." This program showed him he was wrong, he said.
Frerichs had awarded the program a $25,000 grant in 2018 through the Charitable Trust Stabilization Program that is funded entirely by the fees paid by not-for-profit organizations. The Charitable Trust Stabilization Program had been dormant for a decade until Frerichs restarted it.
As the chief financial officer in Illinois, Frerichs said investing in people to make the most of themselves is what this jobs re-entry program is all about, plus the program reduces the rate of recidivism.
The Charitable Trust Stabilization Program is currently accepting applications up until Sept. 30 by not-for-profits with annual budgets of $1 million or less. For more information and to complete an application online, visit www.illinoistreasurer.gov.
Other staff and volunteers speaking at the program included Cheryl Parks, executive director of the Jobs Partnership Re-Entry Program, and the Rev. Cliff Parks.
"How unusual is it to have inmates cheering for their sheriff!" Cheryl Parks said.
The Jobs Partnership Re-Entry Program is sponsored by Heaven's View Christian Fellowship.