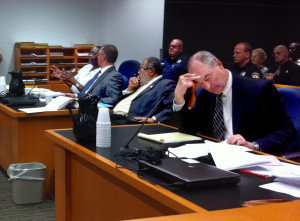 Cleve Heidelberg, far left, addresses Judge Albert Perham Jr. as his attorneys, from left, Andy Hale and Don Jackson listen while their client tells the judge he is competent to serve as his own attorney in one motion.  Peoria County State's Attorney Jerry Brady, right, has repeatedly argued there is insufficient evidence to support the case be reviewed by an independent special prosecutor.
BY CLARE HOWARD
There were moments of eloquence and moments of compassion in the courtroom of Peoria County Circuit Judge Albert Purham Jr. Wednesday during a hearing on the conviction 46 years ago of Cleve Heidelberg for the 1970 murder of Peoria County Sheriff's Sgt. Ray Espinoza.
There were also periods of frustration and conflict in the courtroom.
Members of both the Heidelberg and Espinoza families were present.
In the end, Judge Purham said there were sufficient issues of concern with the original conviction that he moved forward with appointment of an independent special prosecutor from the Illinois Attorney General's office, Steve Nate, to review the case.
A status hearing was set for Dec. 1.
In moving forward, Purham denied a request by Peoria County State's Attorney Jerry Brady that the appointment be held while the decision was appealed.
The Heidelberg case was divided into two segments. In one motion, seeking post conviction relief and his immediate release, Heidelberg held fast to his insistence on serving as his own attorney. A hearing was set for Nov. 16 on that issue.
In the appointment of a special prosecutor, Heidelberg will continue to be represented by attorneys Andy Hale and Don Jackson.
Heidelberg assured the judge that while he has been damaged by his nearly half century of incarceration for a crime he insists he did not commit, he has no serious mental diseases or mental impairment that would prevent him from serving as his own counsel.
He objected to allowing the Peoria County State's Attorney's office to appointment a special prosecutor, saying "they put a friend in as special prosecutor, and he takes months of preparation . . . delay, delay, delay. I go back to the penitentiary and get irons on me and am incarcerated one more day, one more month, one more year, two years . . . ."
Heidelberg said he's been in prison for 46 years, four months and nine days for a crime he did not commit.
Larry Evans, assistant state's attorney, objected saying "We are all here today because he killed a police officer" and over the course of the past 46 years, every case review sought by Heidelberg has been turned down by numerous courts.
At one point, Hale said, "I don't know what the state's attorney is afraid of. This is a search for the truth."
The decision to review this case again is based on what Hale and Jackson contend is new evidence showing FBI fingerprints were never submitted to the court, eye witnesses were coached, Heidelberg's constitutional rights were violated and key witnesses were not allowed to testify. A confession to the murder by another man was never submitted to the court.
Hale said, "Every hour and every day of delay is significant to him (Heidelberg). Let's get the truth out."
Evans countered that justice has been served; a man who murdered a police officer 46 years ago in cold blood has been incarcerated for life.
In deciding to move forward with an independent special prosecutor from the Illinois Attorney General's office, Purham said there must be a remedy when there is doubt justice has been served.
"I want a neutral body to tell me if Cleve Heidelberg's right to a fair trial was violated," Purham said. "I believe the Espinoza family deserves justice too."
Recognizing Heidelberg's age of 73 and his diagnosis of congestive heart failure, the judge added "not posthumous justice."