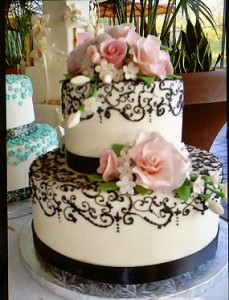 By Marie Blood
"Bake it good and they will come" could have been the slogan for Dorothy Pitcher, owner of The Cake Shoppe in Bartonville all these years. She and her sister, Merijo Carnell, opened this business in 1977 at 5701 S. Adams Street and have been creating masterpieces to wow the Tri-County area's populace ever since.
From the beginning, their specialties have been cakes: wedding, anniversary, birthday, and special occasion cakes done in a variety of sizes and flavors, recently displaying a special 007 Spy Cake and a luscious-looking fondant topsy-turvy "Mad Hatter" masterpiece in their shop.
"The biggest cake we ever did was for the Commercial Bank's 100th Anniversary about 25-30 years ago," says Pitcher in a recent interview at her business.
"The cake fed 3,000 people over several days. Two people kept cutting replacement sheet cakes in the back which were hidden behind gum paste flowers in front." she explains.
"We also made the Commercial Bank's logo which rotated on the cake," she laughs.
"My sister is the one who decorated cakes and she did wonderful work," says Pitcher. "She took classes from the true Wilton School and worked with the original Wiltons and learned all kinds of classes." Pitcher explains. "She then taught me how to do it."
Whether the customer's request is for a scary Halloween scenario or a more formal Bar Mitzvah rendition, regular sheet cakes are their biggest volume seller, according to Pitcher.
"Our busiest time is during graduation, and during that week we will put out probably 150-200 cakes (which include their wedding cakes)," says that from the middle of May until the first week in June they are swamped.
In a normal week Pitcher says they will put out around 30 birthday cakes and maybe five wedding cakes: "In October we have 45 weddings on the weekends, of course. And, each wedding cake can contain from three to seven or eight cakes," she explains.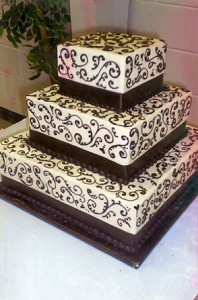 But as busy as they are, they still always take time to do the unusual. Recently they made 30 individually designed "red hat" cakes to be put on different tables for a Red Hat Society ladies meeting.
"They loved them," Pitcher enthused about the variety cakes. "Everyone was taking pictures of all the cakes at every table. And then they didn't want to cut them," she says with a twinkle in her eye.
Their business has been surprisingly recession-proof through the years, according to Pitcher.
In the 1980's when Cat had their big layoff and the unions were off for a year and a half or so, we had bigger weddings during that time than we have had before or after," Pitcher maintains.
When she asked people why this was, she says they replied. "Well, the kids need the gifts, and weddings are too important."
Indeed, they must be, as Pitcher says their October this year was totally booked in June and on the popular dates they are booked a year ahead.
"Wedding cakes need to be ordered months and months ahead," she says. "We have bookings for October of next year already, and we have weekends where we have ten or eleven weddings in one day." Pitcher explains the popular wedding dates are June and October.
"They (weddings) start in May through October, and other than that, the dates are just scattered." she states.
Then at the end of October, she says the candy business picks up.
"Not that we make candy, but we sell all the supplies to make candy," she says, in addition to selling everything with which to make and decorate cakes, including the bride and groom toppers for wedding cakes.
"We sell bon bon centers, caramels, colored chocolate, molds, and beautiful boxes to put your candy creations in as gifts," Pitcher explains, and she adds that business is very heavy from December right up to Christmas.
Their slow times are January, February and March, and that is the time period in which they hold their fall and spring cake decorating classes. "The fall ones are already booked up as they fill up real fast," Pitcher says. Then spring classes start in February.
The shop offers both specialized and regular cake decorating classes: "For the specialized classes, which run about $60 to $75, I have teachers who come from all over to teach flower-making gum paste, fondant work, stencil cutting, and air brush techniques," she elaborates. "The specialized classes have teachers who are known for their work in that area; a Lady came from Iowa and one time a lady came from Massachusetts to teach," she adds. These specialty classes are offered one time and they are usually in March and April. However, she maintains they are not part of the regular fall classes.
"The regular fall class is four weeks long and costs $40. We usually run three of them with eight or nine people in each class so we have more 'one on one' teaching," says Pitcher, adding that her sister, Merijo, is currently that teacher.
Because beach weddings are so "in vogue" right now, Pitcher's most popular wedding cake is a Seashell Cake. It is a three-tier round cake decorated with chocolate candy seashells made by decorators in her shop. "Everything on this cake is edible." she enthuses.
Pitcher is married to husband Wesley and they have three children and eight grandchildren, some of whom are involved in the shop.
One of her daughters, Gwen Morgan, decorates the wedding cakes, with Pitcher opting to tend to the "pr" and business side of the shop. She hires six part-time decorators who work approximately three days a week.
At one time she had an addendum shop in Peoria on University Street for ten years but she closed it seven years ago. "We did good business there, but it was a lot of work," Pitcher says, adding. "We still get calls from people asking if they can pick up their orders there."
Pitcher reminisces that she won first prize for cake decorating at the heart of Illinois Fair several years running. Finally, to give others a chance, the stipulation was made if you won first prize one year, you were required to just submit a show cake the following year. "So, we won every other year," she laughs, with a shoulder shrug.
Customers have choices of basic sheet cakes in a small size (serves 12-15) for $23.50 and goes up to the extra large sheet cake (serves 80-100) for $64.00. Flavors include Chocolate, Confetti, Lemon, Marble, Orange, Spice, Strawberry, and White & Yellow with various yummy filling flavors that can be added between layers in addition to the regular icings. Round cakes are also available with different pricing schedules. One can access their website at www.bartonvillecakeshoppe.com in order to see cakes and prices. Local delivery prices arc $35 and for weddings, the shop coordinates cake set-up time with the reception site and your florist. They have delivered as far away as Chicago, Champaign and Sterling, for which a mileage fee is charged.
As a courtesy, the shop provides free cake samples for customers to try the first Saturday of the month from 10:30 a.m. to 2:00 p.m.
Several books are made available showing previously decorated cakes the shop has created from which customers can get ideas for their own cake orders. Pitcher is very accommodating about special request items: "We will even do photo images on cakes," she says. However, these cakes run about $10 over the regular price.
Mints, which are always mint flavored, hut come in various sizes, shapes and colors, are priced at $20 per hundred for chocolate, or $30 per hundred for the cream cheese mints.
Pitcher doesn't bother to advertise as she has all the business she can handle.
"We are known for how good our cakes are, and so we leave it at that," she says.