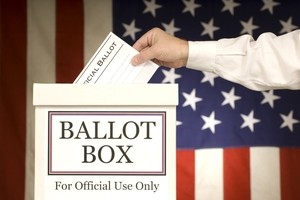 Peoria voters are coming out to support their candidates for city council and school board elections.
When I asked stay-at-home-mom Maria Graves, 42, why she felt it was important to cast her vote on the Peoria School Board ballot this spring, she said it was a matter of conscience. "It's my responsibility as a citizen of the district to help elect who I feel will do the best job for our schools and our children. The next generation is our future, and with everything that's going on in the world right now, they'll need the best education we can give them. I want my opinion to be one of the voices out there."
Sarah Skuttle, a college student and political science major, agrees. "I've been voting since I turned 18. I've never missed an election. I think some people just kind of put off the smaller elections because they don't think they're as important as the ones on a state or federal level, but who we choose to represent us locally makes a huge difference. If I don't speak up, who will?"
"I don't vote every time—I should," admits Phil Montgomery, 66. "I think sometimes when the right candidate doesn't get voted in, I feel guilty if I haven't voted. Like I maybe could have done something to change it."
Hundreds of city residents will come out to the poles on April 5th to cast their ballot for the "right" candidates for Peoria City Council and the District 150 School Board. But as for just who the best candidate is, only time will tell. A handful of individuals have contested to run for the Peoria District 3 school board seat, which comprises the area north of Forrest Hill. Janice K. Deissler, a former professor at Illinois Central College as well as a former District 150 School Board member with ten years of service; Jody Pitcher, the leader of the Peoria 9-12 project; Phillip E. Cline, a former hospital CEO; and Rick Cloyd, an employee of Caterpillar Inc. and former vice president of Keystone Steel & Wire will run for the District 3 seat. All four candidates who have filed to run are write-ins.
Writing In a Vote
For all Peoria residents planning on casting their ballot who have no experience with "write-in votes," Tom Bride at the Peoria Election Commission says the process is simple. "For District 3, which is the only district you can do a write-in vote for, you select the write-in option on the screen and hit enter."
Here's how you do it:
Turn the SELECT wheel to the Write-In option and press ENTER.
Turn the SELECT wheel and press ENTER to spell out the name of the candidate you wish to write in. The cursor will indicate your place in the text box.
Turn the SELECT wheel to highlight Accept and press ENTER.
Other choices are: Clear Last to go back a space, Space to skip a space and Cancel to return to the ballot without entering a choice.
Casting Ballots with Cumulative Voting
Voters are not allowed to do a write-in for the Peoria City Council. "You have to be a certified write-in," says Tom, adding that the last date to be a certified write-in was February 3. Rather than using the write-in method, the Peoria Election System uses equal-and-even cumulative voting to elect city council members. This form of voting is used to elect five at-large city council members, while district elections are held to fill the remaining five seats.
According to a Peoria government web site called FairVote, cumulative voting (CV) requires representatives to be elected from multi-district seats. Voters in each district can cast as many votes as there are empty seats, as is the same for any "plurality" election. The main variance with CV is that voters may vote for their favorite candidate or candidates multiple times allowing, for example, voters in a political minority to win an election.
Equal-and-even cumulative voting, also called "the Peoria method," according to Fair Vote, allows voters to cast votes for as many candidates as they wish, and the votes are then equally distributed among the candidates. For example, if five candidates are running, voting for only one candidate would give him or her five votes. If a person voted for two candidates, each candidate would receive 2.5 votes.
Making History
Even-and-equal cumulative voting was introduced in 1987 to dissolve a voting rights lawsuit in Peoria. Here's a list of important Peoria elections with outcomes based on the cumulative voting system. All information has been retrieved from FairVote.
· In 1991, two African Americans were elected to the city council due to cumulative voting. The voting system demonstrated success at ensuring fair representation.
· Political newcomer John Morris was elected to the City Council in 1999. He won the city's at-large primary elections and placed second in the general elections.
· Ryan Spain was elected to the city council at age 24 in 2007, placing second in Peoria's at-large primary election and third in April's general at-large election. Spain beat two incumbents and ten other candidates in the primary.
When to Vote
March 31st is the last day for early voting. Early voting allows residents to vote in person at designated locations before Election Day and usually begins 22 days prior to an election and ends the Thursday before the election. Registered voters in Peoria can vote in the Board of Election Commissioners Office at 542 S.W. Adams Street in Peoria. Residents of Peoria can also cast their ballots at satellite voting centers throughout the city. The last date for mailing out absentee voting applications will be March 31st. The final date for in-person absentee voting is April 4. On Election Day, the polls are open from 6a.m. to 7:00 p.m.
For more information or questions about the voting process, contact the Peoria Election Commission at 309-494-8683.