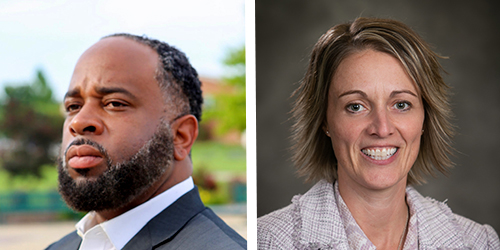 Community Word asked Jodi Hoos (pictured on right) and Christopher McCall (pictured on left) for a brief statement on their positions regarding establishment of a conviction integrity unit within the Peoria County State's Attorney's office.
CIUs are set up to work independently within a prosecutorial office to review cases that may have resulted in wrongful convictions. According to The New York Times, about 60 local prosecutors across the country have created these special units. The Times article stated: "The units have helped clear almost 400 people over the past dozen years, and they helped win releases in more than a third of the 165 exonerations recorded in 2018, according to a national registry maintained by three universities. The exonerated were largely African-American men convicted of crimes like murder, robbery and drug offenses. Their prosecutions were found in many cases to have been marred by perjury, false accusations or misconduct by police officers or prosecutors.
Jodi Hoos was appointed state's attorney following the death of Jerry Brady. She is running for re-election. Christopher McCall is a Peoria attorney with his own practice. He is running against Hoos in the March primary.
Jodi Hoos:
The most important goal for any State's Attorney is to advance justice. That is usually seen as convicting the guilty, but many times, means protecting the innocent. Conviction integrity units can be an important part of meeting that goal, and is something I will continue to look into as our system of justice is ever evolving. Certainly, questionable convictions that stood on unreliable evidence have no place in our system. The purpose of most conviction integrity units is to allow an opportunity for consideration of information or evidence that is either newly found or vastly different than the evidence that was presented at trial. At first glance, it would seem only natural to want any new evidence or information to be welcomed and reviewed for any case at any time no matter how much time has passed. But, if a guilty verdict is made to seem questionable or unreliable on the basis of new claims that are unsupported, uncorroborated or have surfaced for reasons that seem less than credible, a whole new miscarriage of justice can occur. That is why it will always be my focus to get it right at the beginning of a case, rather than hope to figure things out at the end. Many of the cases reviewed in conviction integrity units in other states were cases that relied on evidence that was not corroborated. In Peoria, we focus on facts that support what a person is saying –– or not saying, as often times we are left with uncooperative witnesses. We look to DNA, fingerprints, gunshot residue, photographs, videos, a confession, an eye witness, or any number of other corroborating facts that support the guilt or innocence of someone. Advancing justice is no easy task. It's a balance between the interests of the accused, the victim and a community. Striking that balance is something I am proud to say the Peoria County State's Attorney's office will always strive for under my watch.
Christopher McCall:
If Peoria County were to add a Conviction Integrity Unit, it would take resources from other equally important divisions of the Peoria County State's Attorney's Office, hereinafter known as SAO, because a Conviction Integrity Unit would not be in the budget that was approved the year before. And Peoria would be the smallest government entity to do this.
It is my goal to set the expectation in the SAO, that the assistants divulge all exculpatory evidence and seek truth, instead of just "a win." That provides integrity in the trial court's decisions.
Larger County State's Attorney's Offices have such a budget, and I fully support those endeavors. But unfortunately, with the budgetary constraints the Peoria County State's Attorney has at this time, such a unit would not have the funding currently.