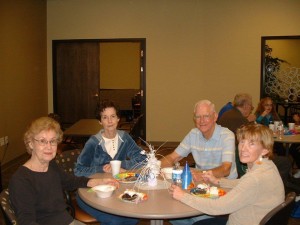 When the Humana Guidance Center hosts a birthday party, everyone is invited! They host one each month and their calendar reminds you, "It Doesn't Have to be Your Birthday." You're still invited for cake, ice cream, and beverages. About those beverages…every cup of coffee is freshly brewed thanks to a fancy coffee machine that can whip you up a latte or cappuccino in minutes. Or a good cup of regular or decaf. It's your choice.
They offer a choice of activities too. From ballroom dancing to movies, card making to crocheting, Wii bowling and other games to just relaxing and reading the daily paper. You decide. They'll warmly welcome you at their Center, located at 7915 N. Hale Ave. in Peoria from 8:00 a.m. to 5:00 p.m. Monday through Friday.
The reconstructed building opened some two years ago. Guidance Centers have been part of Humana's history since 1997. They currently have 15 locations throughout the country. Elaine McKenna, Operations Manager in the Great Lakes Region, says, "We want to have seniors here, drinking coffee and interacting with each other. You don't have to be a Humana member. Everyone is welcome."
For those seniors seeking help with insurance and health care issues, the facility is staffed for customer service. Appointments are encouraged. The calendar of events also includes presentations concerning various health issues. A relatively new feature is the noontime "Bring Your Lunch and Learn" program, which in November is on Thursday, the 18th. Folks can sign up to have the monthly calendar mailed to them. Pre-registration for programs is not mandatory, but it does help with knowing how many tables and chairs to set up and an approximation for refreshments.
On a recent visit to the Center, seniors were full of superlatives for the staff and activities. "I think they're doing a wonderful job," says Linda Stricklin. "They make you feel right at home." Others expressed appreciation for the programs presented and the opportunity to share time and experiences with other seniors.
Pat Reed, Administrative Coordinator at the Peoria Center, says, "people start out as strangers and now many of them have formed a bond." One woman told Pat that she loved to play bridge, but after her husband died, she didn't know where to go to play, and was pleased to see that's a regularly scheduled activity.
At the October birthday party, one gentleman was engaged in conversation as he waited patiently for those festivities to conclude so he could start up a card game. Lindsey Minella, Corporate Communications Consultant from the Chicago office, visited the Peoria location and emphasized the importance of socialization among seniors. "We want them to come in here to socialize. That helps keep them out of depression. This is a senior center and we want to encourage seniors to use it."
One man comes in each day to enjoy a cup of coffee and read the paper. Other folks came in for the flu clinic last month and then returned later in the month for the birthday party. "We want to keep people active and social," says Pat.
With the upcoming drop in temperatures, and more time spent inside, the Humana Guidance Center is an excellent place to visit and enjoy new people and activities. And Humana hopes you'll visit soon and often.
For additional information, please call (309) 691-1677.